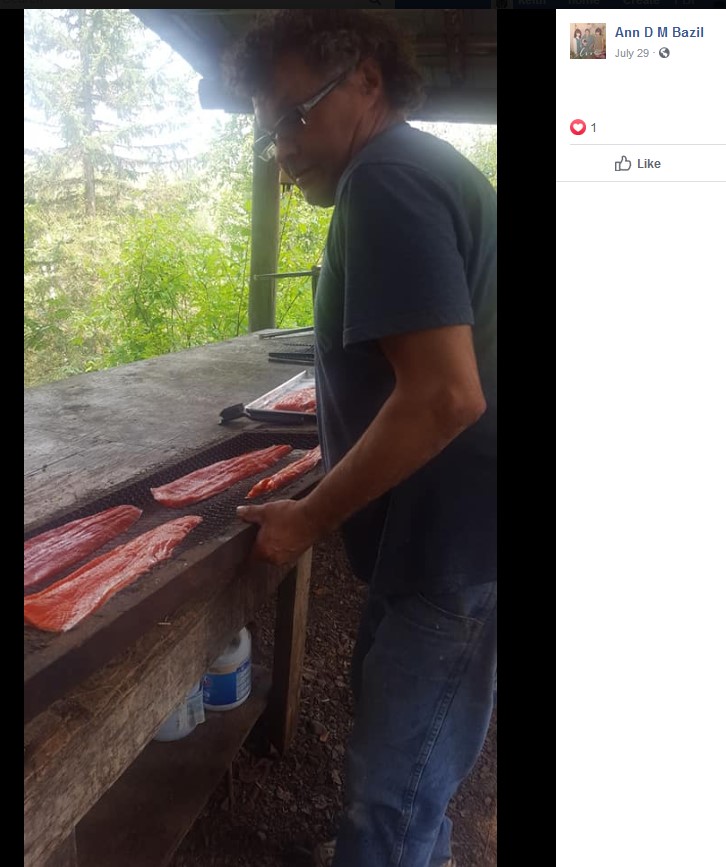 When we talk about aboriginal justice, one must be open to examining all the facts, to insure that in fact justice is taking place as opposed to the whims of a dictatorship. In our last article we point out a glaring fact that keeps repeating itself.  The so called "official voice" the Office of Wet'suwet'en of the Wet'suwet'en people is being propped up by government funding and is without the support of its people.
Without the constant handouts provided by goverment, they would be bankrupt due to mismanagement.
Let's review history, not so long ago 3 Hereditary chiefs (all legitimate) came together to start a new organization as a result of a complete non confidence in the chiefs who ran the Office of Wet'suwet'en. These hereditary chiefs started the Wet'suwet'en Matrilineal Coalition in competition with the Office of Wet'suwet'en.
Keeping in mind that two successive elections in Witset were won by members who supported clean energy projects, in particular LNG. This new group of hereditary chiefs supported the peoples wish to write contracts to allow for massive inflows of jobs and money to come to the Wet'suwet'en people. This was in addition to all of the Wet'suwet'en citizens living east of Witset (Moricetown) who refuse to be governed by the Office of Wet'suwet'en also all in favor of the contracts with LNG projects. I am referring to the Wet'suwet'en who are negotiating under the Carrier Sekani Tribal Council who unanimously endorsed the clean energy protects.
Now once again we see the citizens of Moricetown, plus all of the citizens living at Babine, Houston, Topley and Burns lake all in favor of creating a clean energy corridor that they can all derive massive benefits from.
Now I want to bring you back to an event that occurred in Houston B.C. on June 30th 2016, where Violet Gellenbeck speaks in regards to how justice is carried out in the stripping of titles of 3 legitimate hereditary chiefs.
Anyone who digs deep into the genealogy of the Wet'suwet'en history will see some gaping holes when asking the question, how in the world did most of those chiefs that run the Office of Wet'suwet'en gain their titles. They talk about Eagle Down is our Law, yet they do not follow their own laws, but instead by way of lucrative logging contracts now afford to buy their titles, then impose their own brand of dictatorship (ownership) of the Office of Wet'suwet'en.
Most recently we have the illegitimate chief of the Owl House, installing his nephew (also Owl Clan) as the head of the Sun House, by everything written about Wet'suwet'en history this is unprecedented. Not only is it unprecedented, there is no means other than a hearing in the Supreme Court of Canada that could uphold their edict of stripping title.
The chiefs have already said they do not recognize Canada or its courts so the legitimacy of their sentence on these women is a joke, nothing other than themselves uphold this edict. There is no such thing as a written copy of Wet'suwet'en law, let alone lawyers who can argue that law, its all "In the heads" of a few "Old Men."
See Fake Chiefs and Deadbeat Dads
See Warner Naziel is not Chief Smogelgem
Here we have a case of 3 legitimate hereditary chiefs, backed by at least 90% of the Wet'suwet'en people by way of democratic voting, covering every community that Wet'suwet'en people live in, and still the Office of Wet'suwet'en declares they are the sole voice of the Wet'suwet'en people.
So the Office of Wet'suwet'en applied a rule that does not even exist, as punishment to 3 legitimate hereditary chiefs, and more recently we have Violet Gellenbeck with the backing of the same chiefs, exonerating her very very adult old enough son, for shaming the entire nation by bashing the sculls of salmon he did not want.
In fairness of aboriginal law, a shaming feast should have been demanded, as it was when a police officer in Smithers had to pay for a shaming feast for wrongfully accusing and elder of theft. In light of what occured nothing less than a shaming feast should be applied.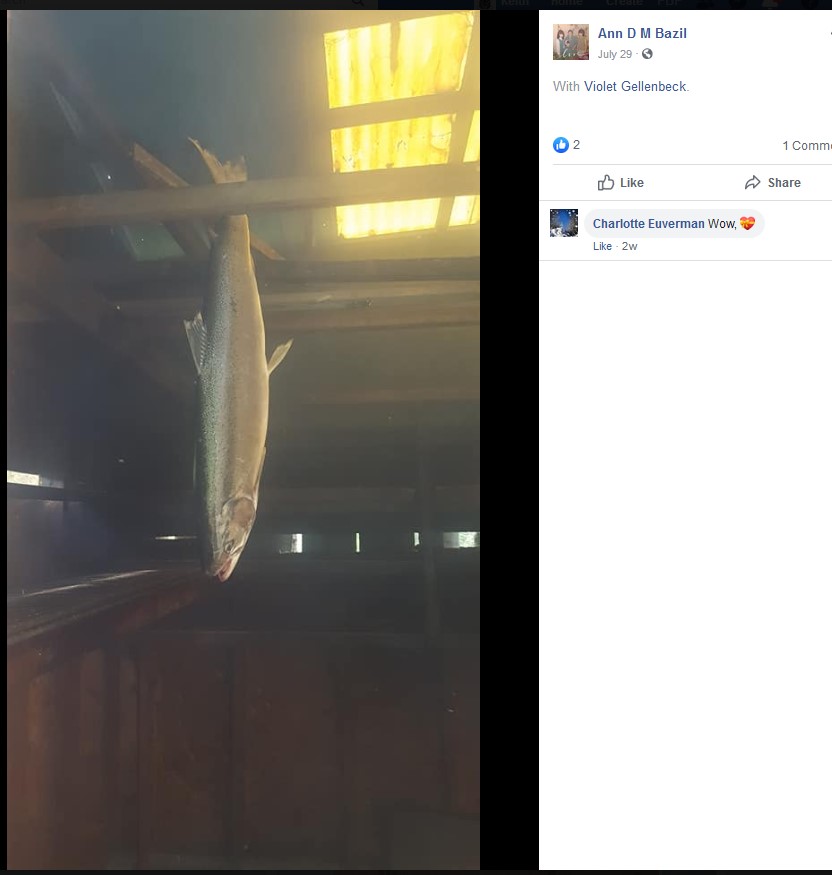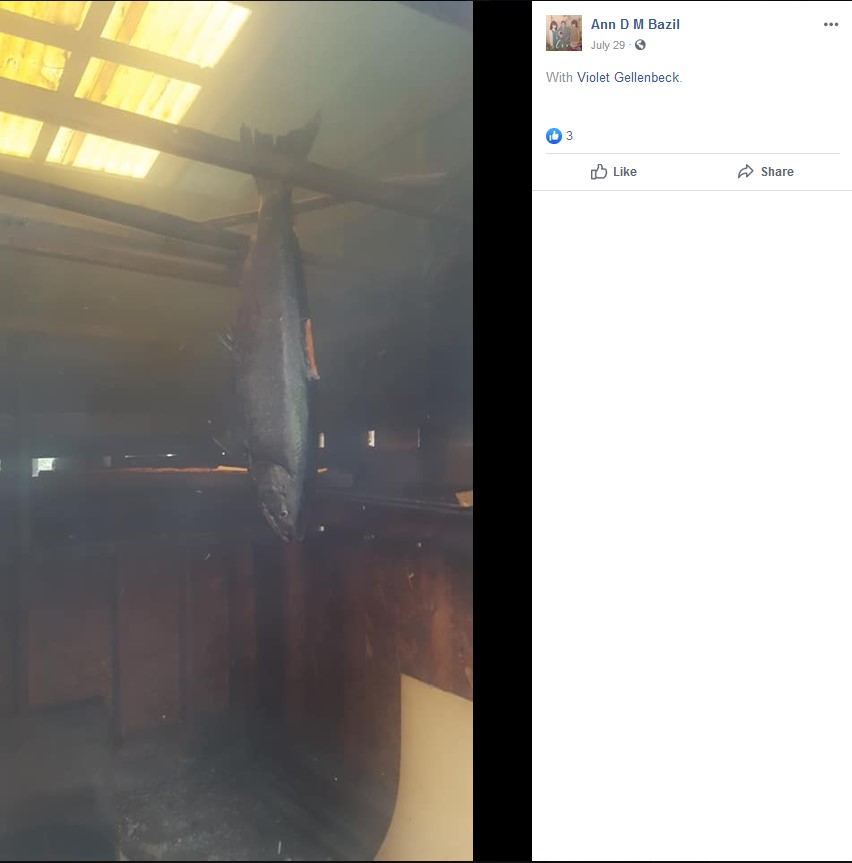 But the story does not end there, what exactly was he looking for? Was he harvesting the Morice sockeye that are on the endangered species list? Watch the video , the fish he is  taking look very much like a sockeye salmon. Refer to the date, and the date of the agreement with the DFO. These guys break the law but the DFO is spineless to do anything about it. If this was a white man, all hell would rain down on him and he would have been charged. But if your the son of a German with some aboriginal in you, your above the law.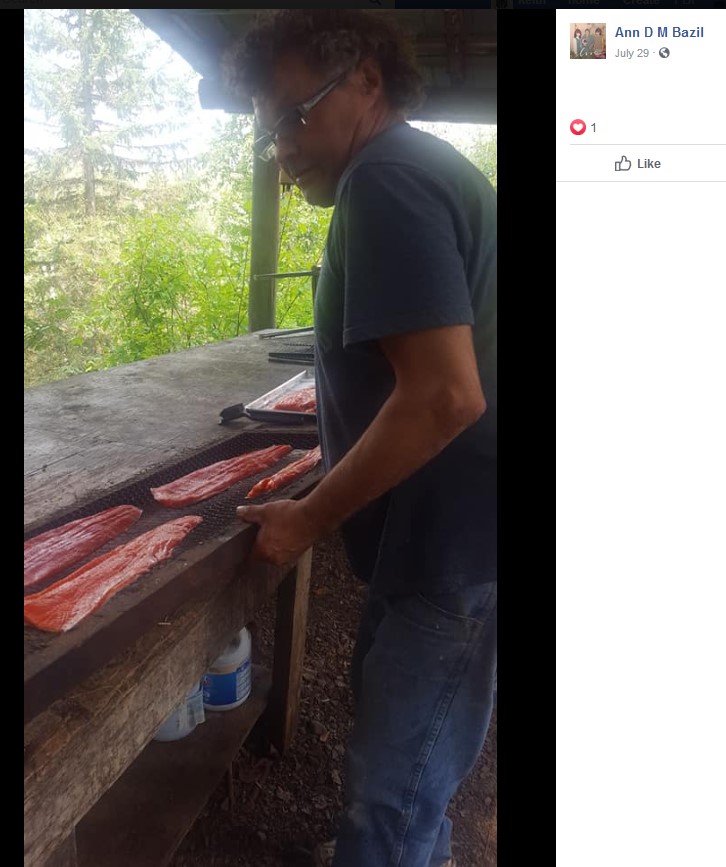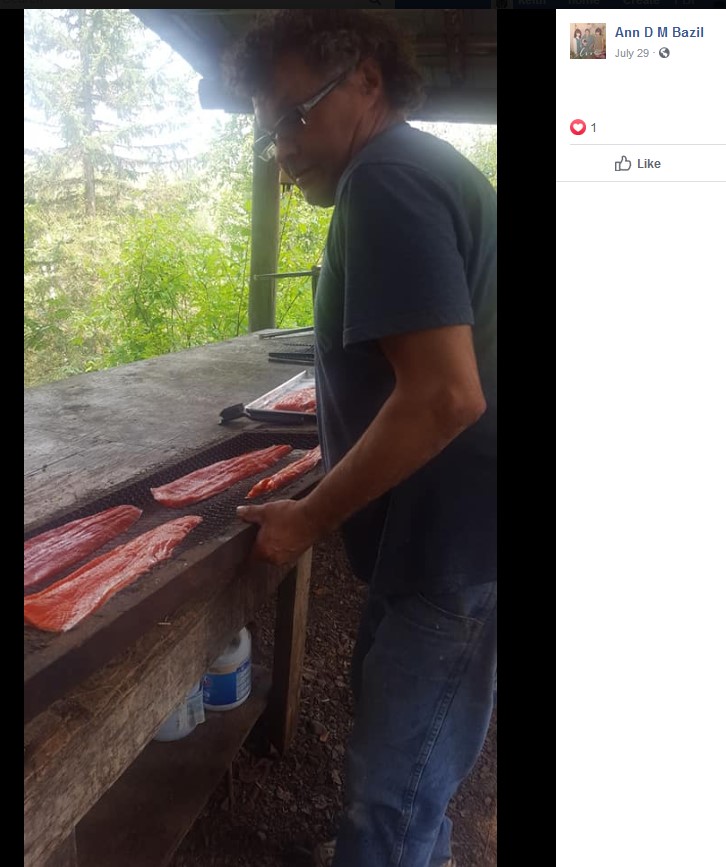 The Office of Wet'suwet'en made a number of deals the general public was not privy to, not that it was a secret, but it was an underhanded way to make it appear that the Office of Wet'suwet'en is looking after the salmon resources by tagging and counting salmon, when in fact they were once again gifted a half million dollar work program to do this work for the Department of Fisheries and Oceans.
This is a good thing, other than intentionally misleading the public using tax dollars to accomplish it. This was not done by funds provided by the Office of Wet'suwet'en.
I am off track a bit, let's get back to the shaming of the entire Wet'suwet'en nation, where now they all face the brunt of accusations about abuse to the salmon. So aboriginal law seems to now be something that is only applicable to those who are not in the good graces of the Office of Wet'suwet'en.
I cannot prove it, but when I see the same man smoking sockeye a day or so after this bonking incident, the video. I know the DFO and the Office of Wet'suwet'en reached an agreement to NOT take sockeye from the endangered Morice run, yet word all around Witest is they were harvested by many despite the agreement.
When you watch the video, it shows there were 'keepers" that in every likelihood are sockeye that are on the verge of going extinct, yet we have the Office of Wet'suwet'en pretending they are the saviours of our environment.
They did nothing about the protestors shooting moose out of season even knowing that their numbers are hitting so low that hunting limits this year are reduced to a couple of days. The don't have any respect for our environment, they only respect the free ride they are getting on the public purse and not having to work for a living. One manager who did not know who I am said to me, look at the fancy very expensive cloths they buy for me, and provide me with the latest trucks, pay the gas bill on it, and all I have to do is appear in my office once a day, I can even let my employees write my reports for me.
They are not the saints who care about our environment, they are the first to exploit it.
This gong show at the Office of Wet'suwet'en is costing its citizens millions in lost revenue, jobs, it's the root of suicide rates. As I said earlier the employment by the DFO is a good thing, it brings pride back into people homes, however these illegitimate chiefs and their obsession to stop clean energy projects are hurting the Wet'suwet'en people as a whole.



"Now you know the rest of the story"
brought to you by
"Two Feathers"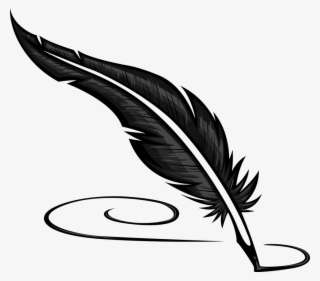 In the event we are using copyrighted material, we are doing so within the parameters of the Fair Dealing exception of the Canadian Copyright Act.


See our Copyright Notice