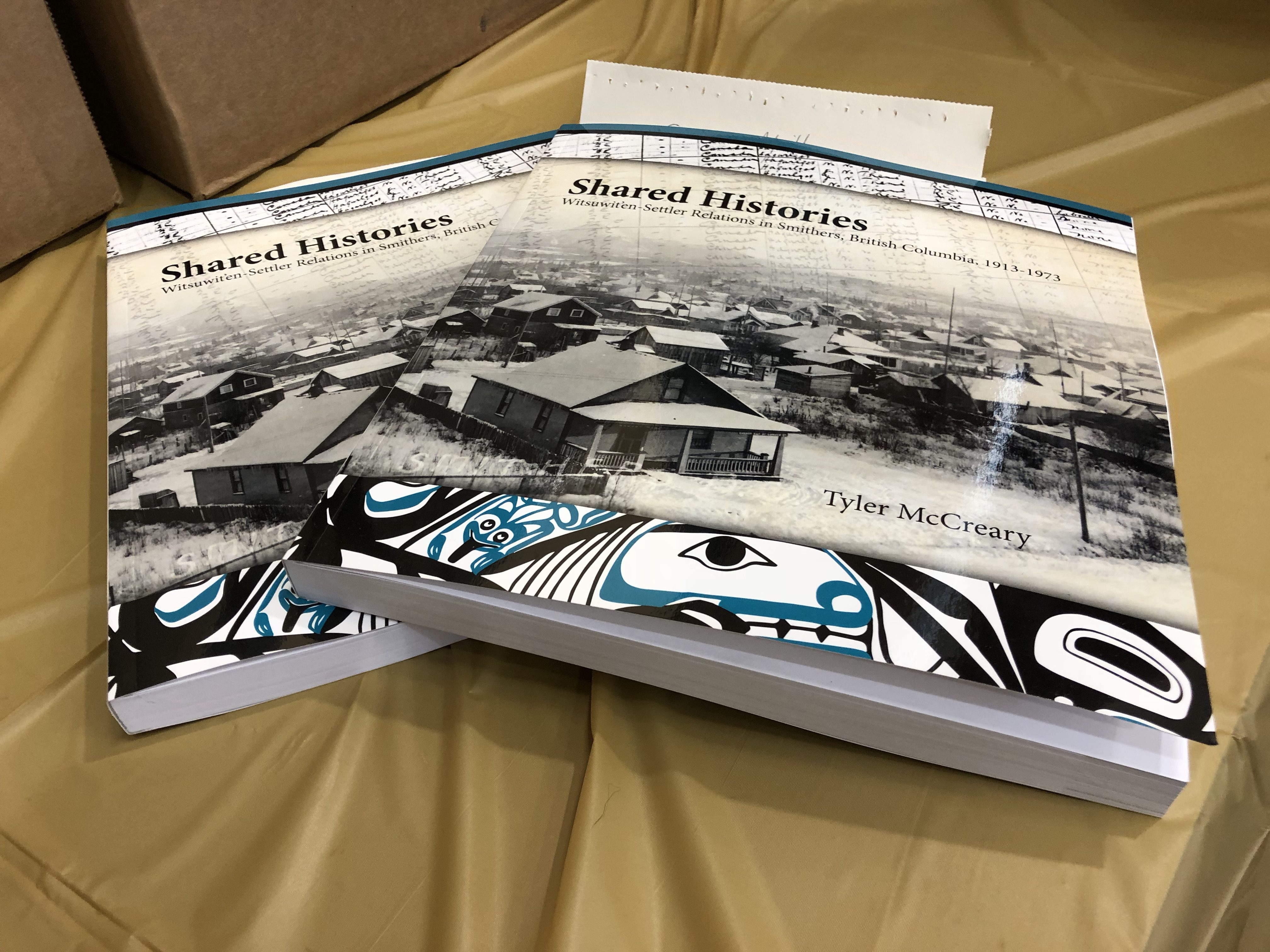 Updated Jan 6th 2022

Introduction:
"This book review was co-written by two local residents who requested their names be removed to insure they will remain protected from attacks on their respective families.  We as a society will never have a civilized conversation as long one side of that conversation is entitled to pull the race card to achieve their non negotiable side of the story. The reason much of that polarization exists is because of those who feed on it, politically.  Most long time residents know the meaning of holding your tongue or getting labelled as a racists, so silence prevails."
It is my sincere belief that Smithers was a whole lot less racist than some want it to appear, Smithers has always been a town of all people all nationalities and mostly all caring for each other, the narrative is now changing for political reasons.

---
The History behind making this book, the who when where why and how, as the outcome is often the product of the motive.
In 2015, Smithers Town Council identified a Shared Histories project as a Town priority, under the direct supervision of non other than Taylor Bachrach now a sitting NDP MP (coincidence?)
Taylor Bachrach has quite an interesting history of how he went from Communications Director for Sierra Club BC to Mayor of Smithers to MP in Ottawa.
In a nutshell this plan was hatched between a few chiefs over at the Office of Wet'suwet'en and that of Taylor Bachrach.
The pitch to the public was  "The primary aim of the project is to help build understanding of our shared history in the Bulkley Valley"
Even the Office of Wet'suwet'en publicly stated "In 2015, Smithers Town Council identified a Shared Histories project as a Town priority."
New add in a comment made by  McCreary intends for people to use the report to start broader conversations about the different experiences that residents have had in Smithers, and even begin to rethink who we are as residents of this town and territory.
Here is where we come to the how and why. Its all part of this new age cancel culture. woke, and re-think to fit an agenda of left wing anarchists and radicals.
"even begin to rethink who we are as residents of this town and territory."
So this is really a collaboration between Taylor Bachrach and his business (Bachrach Communications), and that of the Office of Wet'suwet'en who have lost so much face over the past number of years for failing to represent the Wet'suwet'en people.
Now lets fast forward to Bulkley Valley Research Centre and their role in this book. "The research team, led by Dr. Tyler McCreary, has completed the process of collecting oral histories and archival records for the project. They are currently preparing a book for publication with Creekstone Press. As it is important to ensure that the book accurately reflects local history, the research team asked a group of informed locals from both the Witsuwit'en and settler communities to provide feedback on the draft chapters. The Bulkley Valley Research Centre partnered with the research team to help facilitate this process."
Left unsaid is what information they chose to keep, and what information did they throw out? So the books accuracy is dependant on a group that is well known for their connections to the eco fanatical movement, the anarchist movement and the NDP. Worse yet is they listed the names as a sort of credential to the accuracy of the final outcome. I am glad I did not provide any information or my name would be on that list as well.
Next we add in Richard Overstall, who practices law with the firm Buri, Overstall in Smithers was the research director for the Gitxsan and Wet'suwet'en peoples in their Delgamuukw court action. His name is synonymous with numerous organizations try to stop or block progress in the Bulkley Valley. (coincidence?) Now we know that in the late 1960s he became involved in the environmental movement together with the late Joe L'Orsa and Richard Overstall.  The group became known as SPEC Smithers and was involved in environmental matters throughout the valley, including the establishment of a proposed pulp mill in Houston and Alcan's Kemano Completion Project."  add in the name Harry Kruisselbrink helped to found the Smithers-based environmental group SPEC (Society for Pollution and Environmental Control) in 1969, serving as its secretary in early years."
Watch how these names all overlap.  Oh my, another coincidence? But the coincidences do not stop here. look at the bottom of the page that belongs to the The Bulkley Valley Research Centre. I screenshot it for you.
If you were to ask around Smithers, Hazelton and Houston, they could likely come up with over 100 people who could have provided, never been seen photos, and the backgrounds of what took place in those years. Looking at the total number of people they did declare, it becomes obvious that the settlers history is only there to be able to write a book about the atrocities committed by Canadians, its not a history book, its a prelude to negotiations. Given settlers a black eye then demand compensation. They need cooperative settlers to pull this off.

First one must be aware that the Town of Smithers elected a major that had his roots deep in the Sierra Club, his name Taylor Bachrach, who went on to take the NDP role of MP for our riding. His wife Michelle Larstone works a little with the Bulkley Valley Research Centre (coincidence?) 2011 – Bachrach moves to Smithers and is urged by Bill Goodacre (former NDP MLA) to run as mayor of Smithers in order to oppose the proposed  oil pipeline. 2017- Doug Donaldson becomes Minister, Michelle Larstone is immediately hired in a full time position at FLNRO. 2019- Bachrach is railroaded in past McPhee as the NDP candidate.
(so much for honouring and respecting aboriginals even if by the NDP's own policy the position should have gone to McPhee)
Wow, any of those names familiar with today's environmentalist movements? I recall many people in the Dutch community who might call Harry Kruisselbrink anything but mainstream, eccentric was a word I heard used on many occasions. Joe L'Orsa worked as a constituency assistant, first for Bill Goodacre and then for former MLA Jackie Pement, (again all NDP) alongside his other environmentalist friend Richard Overstall
Now were starting a book brought to you by the "All in the family" crew, a major tag team between the NDP and the Office of the Wet'suwet'en.
Now that we have set the stage for the book, the next section touches on some of the contents in this book that reads exactly as it was intended to read. The Office of the Wet'suwet'en claims not to recognize the authority of the crown and somehow that's alright with the NDP. Somehow its not an issue when the same goverment hands them million dollar cheques out of our wallets, they just simply spend it with no accountability to anyone.
All of the above should already be setting off alarm bells. the stage is now set for the slammer of the year.
---
Putting the books creation into perspective, we need to pay close attention to the primary contributors to this book, i am referring to those who had much greater than average influence of the outcome of this book.
Having said that I also want to recognize the large number of Wet'suwet'en who were willing to share their family history and we unaware of the overall intent of this book. Those pages where they spoke were from the heart and I do not want to diminish their personal stories at the expense of throwing the book out with the dirty bath water.
Its ingenious how truth can be used to be constructive or destructive, for the sole benefit of the people behind it, in this case the Office of the Wet'suwet'en. Then in credits say that if not for the following people, who were the research team, this book would not have been possible. What they are not going to tell you is what portions came from which contributor, for very obvious reasons. I did ponder after reading the names how many of those names would have endorsed the outcome? It was a clever stunt by those who put together this attack on our community, making Smithers residents out to be malicious racists, then reading Bill Goodacre say about this book  "By this I mean the book does not make light of outrageous behaviour nor does it delve into the blame game." Seriously? This book is intentionally written as a blame it on non aboriginals, the intent of the book is to lay blame, not on the people of today, but on those who built this nation. (by doing it this way they get to bleed the hearts of new immigrants a means to garner support for their anarchist movement.)
The Office of the Wet'suwet'en is based in Smithers, it has an First Nations following but it also run by a highly controversial group of men, who ousted women of equal rank, and do not have the support of most Wet'suwet'en people. They condemn the people's choice as puppets of colonialism, yet every person voting is from the Wet'suwet'en Nation. In short they are chiefs but have no real support from their own families, it could explain why they have never had an office in Witset. So when you have these two collaborating, you can be assured it's going to be a version of history of their choosing.
Again I want to say that it does not apply to all the contributors, some were genuinely speaking from the heart, the problem here is when you mix truth with hate laced comments, the outcome is poisoned.
A Tainted History of Smithers
I have to suggest that this book is a disservice to the men and women who gave all to make our community a better place. The word "colonialism" is used as a ways and means to undermine our existing community.  I want to say don't get me wrong, there is a lot of truth in this book as well, too bad it was not published in a more constructive manner. That is the primary point of my book review, its not to dispute the facts, but rather how the facts are being used to manipulate a mindset that demonizes our forefathers. It does so to support the abolition of the crown, its anarchist mentality.
This book is very interesting and it's yet another one of those books that uses the hypothetical facts, adds in 80% content based on logical speculation.  Let me provide an example, the Wet'suwet'en people have lived here since time immemorial.  The first part is true, s far back as people know the Wet'suwet'en people lived here.  We also know the Wet'suwet'en people were also or previously known as nomadic Carrier peoples. Nomadic meaning they travelled a lot, what we assume is that other tribes did not roam into each other's territories when they were vacated. What this book does it takes logical assumptions made by other historians and writers and uses those references as supporting evidence. I would not find that objectionable other than when it's being used by a group of people known for their anarchist connections.
Sadly the right to take peoples word for facts, is severely abused, just as hearsay evidence has become the golden goose that will lay the golden eggs, and there is a lineup of kingmakers who intend to be rewarded for their contributions, and this book is full of them. Many chapters in this book contain hearsay evidence that is documented as gospel truth, when all the witnesses are dead it's easy to make claims about the past. Oral history is a panoramas box, a house of its own creations.
Too many people today claim they are speaking up for the underprivileged and or speaking up for indigenous people, a noble gesture if the underlying motive was not about getting even for personal grudges. This book was written with the intent of being divisive, to open wounds, and to play blame game. From start to finish it's a chronology of blaming non aboriginals for every problem aboriginals have today, they could have used this book to build bridges, but instead used it to justify the current anarchist wars against pipelines and industry. The book fits the modern day narrative by the extreme left who want to dismantle Canada.
If anything the book is a masterpiece of taking genuine history to make a political and racial stab at the people who live here today, a sense of you owe these people from the past.
Like this one  "The so-called settler pioneers of the Bulkley Valley did not carve out their homesteads from the wilderness as their myth and legends say, but rather stole existing [Witsuwit'en] farms and ranches." Absolute trash, it's an outright lie."
Let me quote Lucy Rose Bazil in 2009, three of Lucy's daughters are contributors to this book, Violet, Charlotte and Sandra, they had the words of their mother but chose not to use them, instead they chose to write in complete contradiction of their own mother had said at a Gidimt'en clan get together.  they go beyond just supporting land claims, they support the concept that they are not bound by the laws of Canada, they support the destruction of the crown, its a far cry from what their mother talked about. All three are active supporters of Molly's blockade on the Morice logging road.
The Nether people Lucy refers to were Dutch settlers. (Netherlands)
I lived in poverty at this time as well and grew up with  these three sisters when they lived on Railway Avenue a few blocks from our family in the early 60's. Their mother was an incredible lady (single mom) who worked hard to provide for her kids, she was highly respected and maybe it was due to my Portuguese background, but I do not recall racism was ever a problem in our neighbourhood, so reading what Lucy said comes as no surprise to me. There were many nationalities living on Railway Avenue back in the early days, many of us were renting homes we could barely afford and we were all so grateful for Christmas food hampers.
"In the old days the white people used to deal with us. Today we learn from the white people. When the Europeans came here there was no prejudice in my time, neighbors were all white in Houston. Indians and whites got along in those days, respected each other as they were very poor too, their country was torn apart by war and they were given leased land in this country. Now the government is selling those lands again. We did not sell it, the government did. White men that bought it worked hard to clear it. They had only a suit case and started with nothing.
Today we should look at people the same way. It was not Indians who sold the land, the government sold the land. The white man paid big money and is still paying taxes today on it. It was not an easy life to leave their countries, to survive they came here, we should respect them. Younger people are different, showing prejudice against white, and white born prejudiced against other people as they don't know the history. The Nether people said the Indian showed us how to fish, hunt and garden; the Indian had big respect for Nether people. In the old days the white people suffered a lot, Nether people cleared that land. Nether people worked for $1.00/day only. White people respect that, worked hard for their money, no bulldozers, only saw and axe. Our people worked hard. We always must look at our ancestors, if not for them, we would not be here today.
 People with names must be respected, elders, now don't do that. I try to talk with my great grandchildren but they don't want to listen to me. That is how it is turning today, must know our ancestors."  Gguhe' Lucy Bazil-Verigin
It's a shame, a missed opportunity, they could have made two separate books, one to tell the story of history from a Wet'suwet'en perspective, and another about the history of Smithers from a settlers perspective and leave out the hate, the bitterness, the division.  Everyone has some bad history, we need to focus on what brings us together as opposed to generating hate to divide us. We are not denying bad things occurred, they do all over the world, we learn to move on, we learn to forgive and make a better future. Even our ancestors, when we talk about the old country, we talk about the good things, and leave the bad in the past.
I recall in the news one instance where Antonia Mills was denied the right to be witness, the logic was the book she wrote was a paid document, meaning she wrote it for her customer, who needed it to support their land claims. All too often we see quotes, and we assume because they were written, they must also be accurate, while nobody ever contested the accuracy of the original transcripts. Here again in this book we create more written history from oral accounts, yet we also know how people tend to have creative minds when they recollect the past. This book belongs in the fiction section as far too much of it is subjective to oral opinions.
Let me quote from the book "Provincial and federal policies were clearly aimed at restricting Indigenous land use and fostering northern settlement. Pushed from their lands, First Nations peoples were forced to congregate in newly created reserves or on the fringes of the new northern settlements." What we see here is possibly the truth, again no one contests it, and nobody is questioned as to its accuracy, it become yet another factual nail in the coffin of truthful history. This is the kind of intentional hate mongering I was referring too, it might have been true, but now the accusation sticks and we are supposed to give our blessing to this book?
Everything about this book is about "Land Back" it's not about learning to move forward, it's about what can we get in exchange for our accusations?
What happens when you mix a left handed agenda with historical facts?  When I say left I really mean left, almost of the people involved with the writing of this book, wanted to condemn the settlers of this valley, all of them have ties to the NDP and or radical elements within the Wet'suwet'en Nation. The motivational intent of this book is to support the anarchist movement that the Wet'suwet'en people do not even support.
What follows is bit and pieces that struck my attention or a nerve on my part.
Bill Goodacre he also lived on Railway Avenue with the rest of us, he was always a really nice guy, well known to curl up and read a book during legislature debates. Bill was a nice guy, but he was a far lefty, and a staunch NDP'r to be fair he was a generous man, with your wallet as tax payers. But I really enjoyed many conversations with him over the 50 years plus or minus that I knew him.   We agreed on many things, this "settler" nonsense was not one of them. One of Bill's outrageous comments was, "The settler community always maintained their sense of being in charge, and this continues to be the predominant mindset."
Having lived in Smithers all of my life, I know that his parents were strong Social Credit supporters and oddly Bill never seemed to have any interest in running the family business heading in the opposite political direction. It's also where and why he garnered most of his political support. Fair enough, I have no objection to political choices but it also explains a lot about motive.
Bill's take on Smithers history was purely a political masterpiece that would have all those people who struggle with poverty, look up to and vote for him, however he was born very privileged.It was not about giving back, it was about painting a profile.  As we are roughly in the same age bracket, when Bill says "Here in the Bulkley Valley we are a microcosm of colonization" he is fishing for votes, it's not true. Smithers was full of the most generous and kindhearted people I have ever know, inclusive of Bill's parents. Part of Bill's makeup was that he never really like work, many of us got to know him well during the years he did work at Super Value. Seriously were not all dead yet and we did see and talk to him in that store his parents built.
This is what you need to say to sow the seeds of race hate, quoting Bill "The settler community always maintained their sense of being in charge, and this continues to be the predominant mindset.  "This is patently untrue, historically those in charge in Smithers earned the respect they got from the contributions they made from their own efforts. If it was disproportionate that was a result of a disproportionate population of a particular race or races of community members. How many Portuguese or Italian residents were ever elected to the town councils? I am not complaining, truth is if you do not run, you cannot win a seat.
I recall many aboriginal families, living in Smithers, and they were treated based on how they conducted themselves, many were respected members of our community. I recall tragic house fires that took lives, among them were also a number of aboriginal people. The community rallied around and supported surviving families.  The very last house on Smithers Main Street belonged to the Thomas family and they sold it for a hefty sum, more than what they bought it for years before. If racism ever existed it must have been prior to the 60's or only noticed by a few people, as I recall none of us tolerated discrimination, most of us were of Christian backgrounds that would never allow us to think or act that way. If some of the claims made in this book were true, they would never have owned a house on Main Street.
Yes there was some racism, but this book stretches the truth to achieve a foundation for other eco-radical intentions. Bill states "over the years, the settler community developed a deep sense of entitlement and that continues to this day." right after saying this book is not about a blame game. Smithers was never a town where people lived on entitlement, what an utterly ignorant comment.
The very words they use, "colonial, settlers, genocide" are a bastardization of the English language used to propagate a anti Canadian sentiment, one that demonizes our nation to serve the goals of anarchists. Yet its not racist to call progressive aboriginals apples?
Yes there were many new settlers, but we were all part of a fight for survival, not at the expense of others, but with every one of all nations side by side.  Its how we built hospitals, schools and community halls we did it together, and in many instances much of the help also came from the Wet'suwet'en living in our community. We were in this together, we will stay in this together, unless we allow those elements to divide us using race hate as a tool.