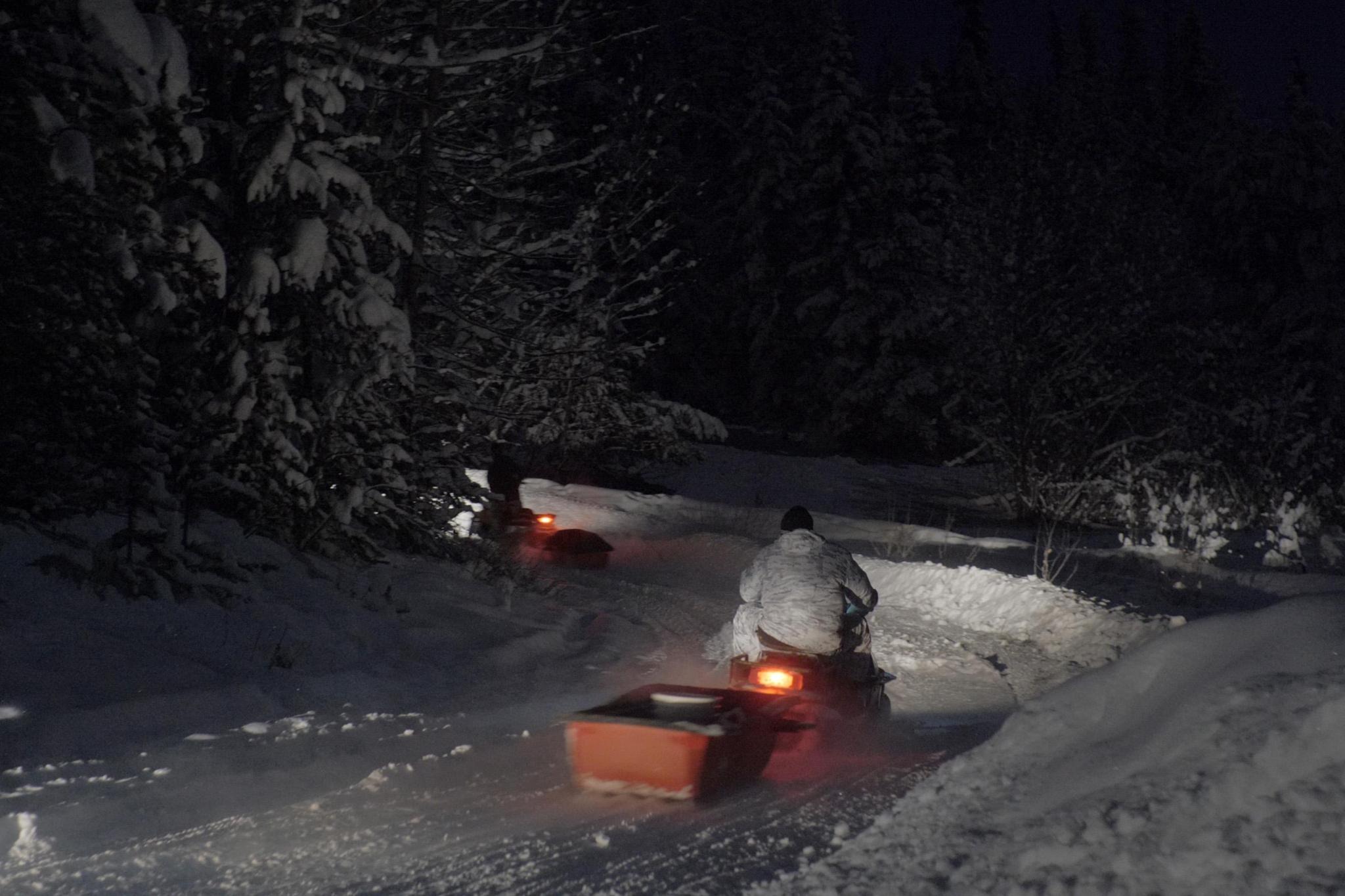 Updated: Dec 22nd – 6:30 AM Tuesday
There is still not a lot we can add, we do know that the same people that are behind the Fairy Creek blockade in Victoria are also up here breaking the law, and or participating in breaking the law. We have now identified 3 of those reeking havoc on the Morice West Forest Service Road. In addition to Molly Murphy, we have now also identified Arvin Singh and Camilo Ruiz are known professional protesters from Fairy Creek Blockade. Its like a hardened criminal invasion of the peaceful Wet'suwet'en yintah.
Note: These people are very similar to known criminals, using fake identities Arvin Singh and Ronin Swanson are one and the same people. Demon Papa and Arvin Singh are one and the same people. Both Arvin Singh and Camilo Ruiz travelled together to get here and now are bumming the public for gas money and funding.
And a note of caution, women be on your guard if you are out there, we do not have evidence but there were many rumours swirling around the Fairy Creek Blockades about some predators being out there, and they were not your traditional wolf or coyotes.
Also we now have the return of CBC/Submedia (A CBC/Terrorist) collaboration with Michael Toledano back up there again as well, and rude as hell to our RCMP officers.
It was really appreciated to see the RCMP doing their jobs, thank you.
Updated: Dec 21st – 7:00 AM Tuesday
Not much to report other than the reporter/photographer on the scene is the former chairman for the Skeena-Bulkley Valley NDP Association and was in that position during Nathan Cullen's run for public office, so there are some deep connection there.
As evidenced by this screenshot from theTyee website.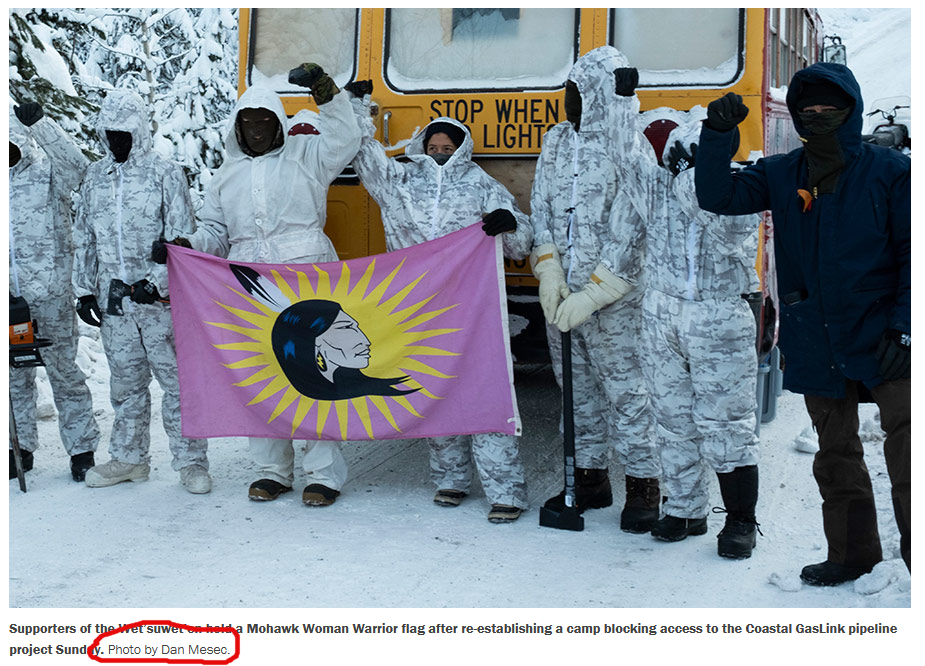 Updated 3:30 PM Monday
We have unconfirmed reports that one of the blockaders is Molly Murphy a Caucasian female who has been here previously this year and comes from the Fairy Creek Blockaders camp.
Other than that we have an updated report from CGL website.
Updated: Dec. 20, 2021 – 12:45 p.m. PST
On Sunday, December 19, 2021, a group of approximately 10-12 camouflaged and masked opponents took over the Marten Forest Service Road and Morice River drill site. The opponents threatened Coastal GasLink security officials with violence, damaged trucks with clubs and fired flares and bear bangers. The security officials subsequently left the site for fear of their safety and RCMP have been notified of these illegal activities.
Coastal GasLink is increasingly concerned about the safety of our workforce and the public following this escalation in unlawful and dangerous activities by opponents that have put people, property, and the environment at risk. An enforceable B.C. Supreme Court injunction is in place to address illegal activities and allow Coastal GasLink to continue with our fully permitted work.
As this situation evolves, we remain in close contact with our prime contractor and workforce. Our work is lawful, authorized, fully permitted and has the unprecedented support of local and Indigenous communities and agreements in place with all 20 elected First Nation councils across the 670 km route. Coastal GasLink is almost 60% complete, and construction is active throughout the remainder of the corridor.
Coastal GasLink continues to actively monitor the current situation and will continue to provide updates as they become available. Our primary concern remains for the safety of everyone involved.
Updated 3:30 PM (Sunday)
We have unconfirmed reports that up to a dozen people took over the camp that was being monitored by one or more security guards who did call the RCMP. If we hear anything new we will share it with you. Everyone working there already went home for Christmas vacation and time off with families.
Sunday 1:15 PM
We will bring you any updated information as soon as we get it. So far the only information we have is what they are putting out.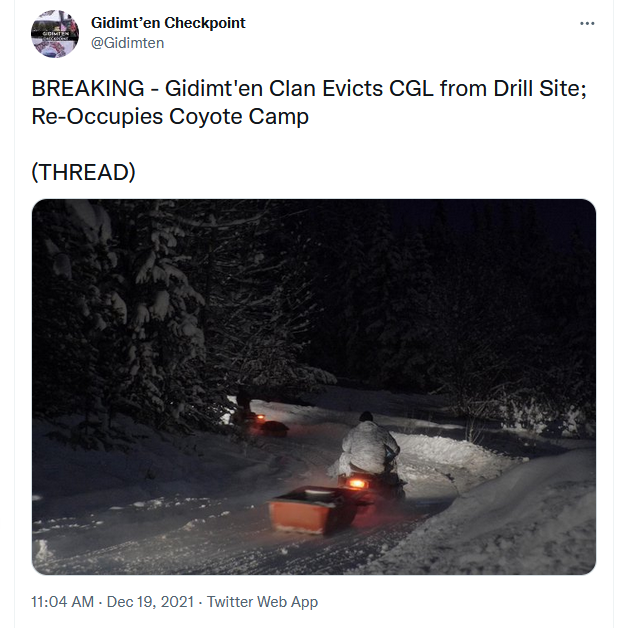 ---
#buildthatpipe #Wetsuweten #TidesCanada #WetsuwetenStrong #RCMPstanddown #AllEyesOnWetsuweten #NoTrespass #WedzinKwa #DefendTheYintah #RCMPAreMercenaries #WouldYouShootMeToo #LandDefenders #WaterProtectors #RiseUp #LightYourSacredFires #landback #blockade #takeaction #istandwithwetsuweten #decolonize #landdefenders #protectthesacred #gitxsanterritory #yintahaccess #pipeline



"Now you know the rest of the story"
brought to you by
"Two Feathers"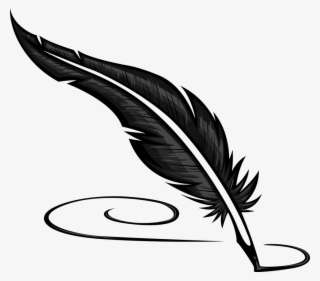 In the event we are using copyrighted material, we are doing so within the parameters of the Fair Dealing exception of the Canadian Copyright Act.


See our Copyright Notice