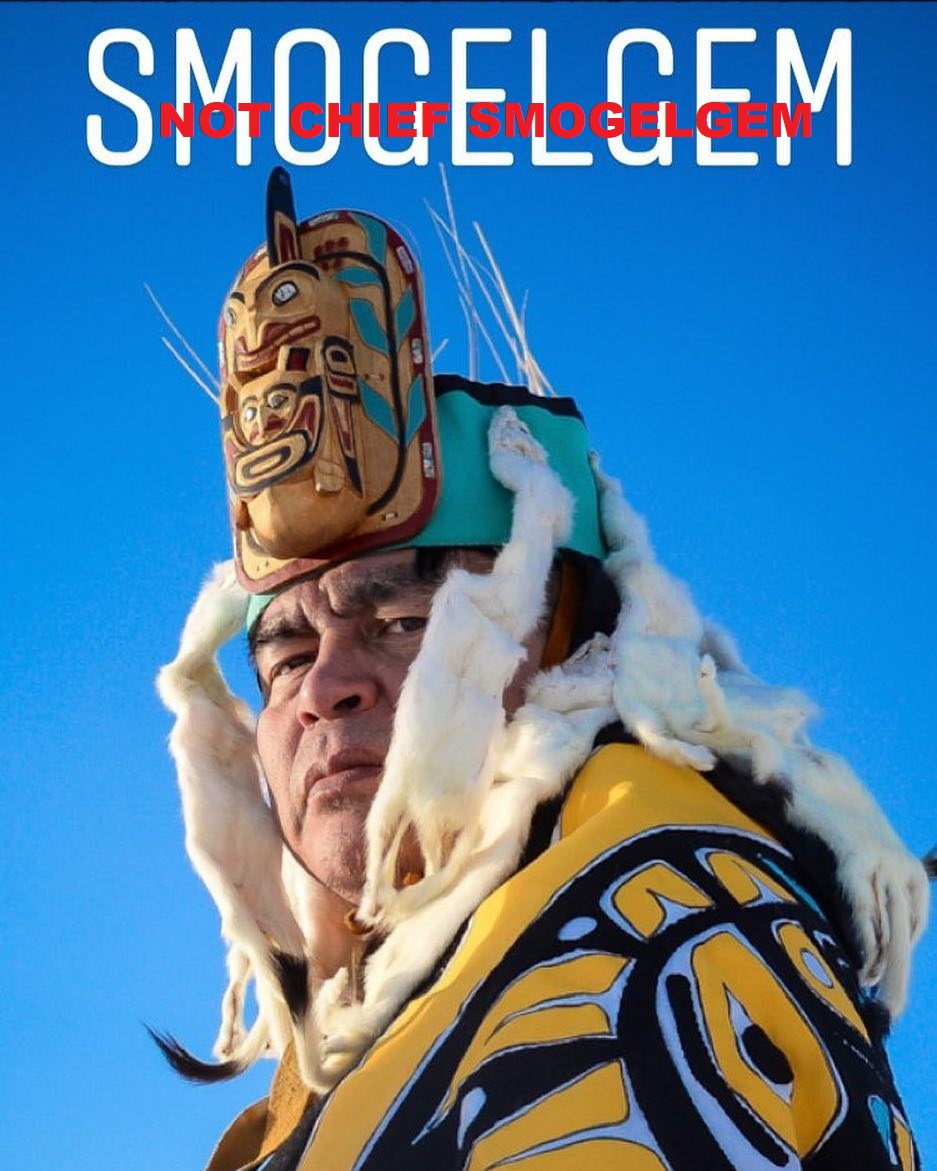 UPDATE 12-04-2021
The article we wrote was during a time we ourselves were learning so much about who did what said what and since that date we have leaned so much more and found so much more evidence that this was a conspiracy by people who could not even tell the same lie consistently. Be sure to read the much newer revelations about this in our recent article  Memory Lane – Like peas in a pod.
Our intention here is to prove and end the debate over who the present day Smogelgem is, and who it is not.
This debate has gone on far to long and its time for the Laksamshu to come clean on the truth. Cheif Mikhlikhlekh or better known as Johnny David testified that his father was Chief Smogelgem.
From court transcripts we also know that quoting directly from court testimony.
Q Your pole, that is the pole of Maxlaxlex, was carved by Thomas George, is that
right?
A Yes, it was Thomas George who did all the carvings on
the totem pole.
Q And Thomas George was the husband of Mary George?
A Yes he was the wife of Mary George.
QHusband?
AHusband of Mary George and since Mary George could not carve the pole, Thomas George carved the pole and when the moneys were paid for carving the pole, all the money
went to Mary George.
Q Mary George was related to your father, Smogelgem?
A Mary George was my father's grandchild. That is how the business is done.
Q Just to clarify that, is that the Wet'suwet'en tradition that your father's relations are responsible for carving your pole?
A Yes, they are the ones, yes. And Thomas George's sons are alive today, Leonard George and Andy George.
Q And Leonard George presently holds your father's name
Smogelgem?
A Yes he does.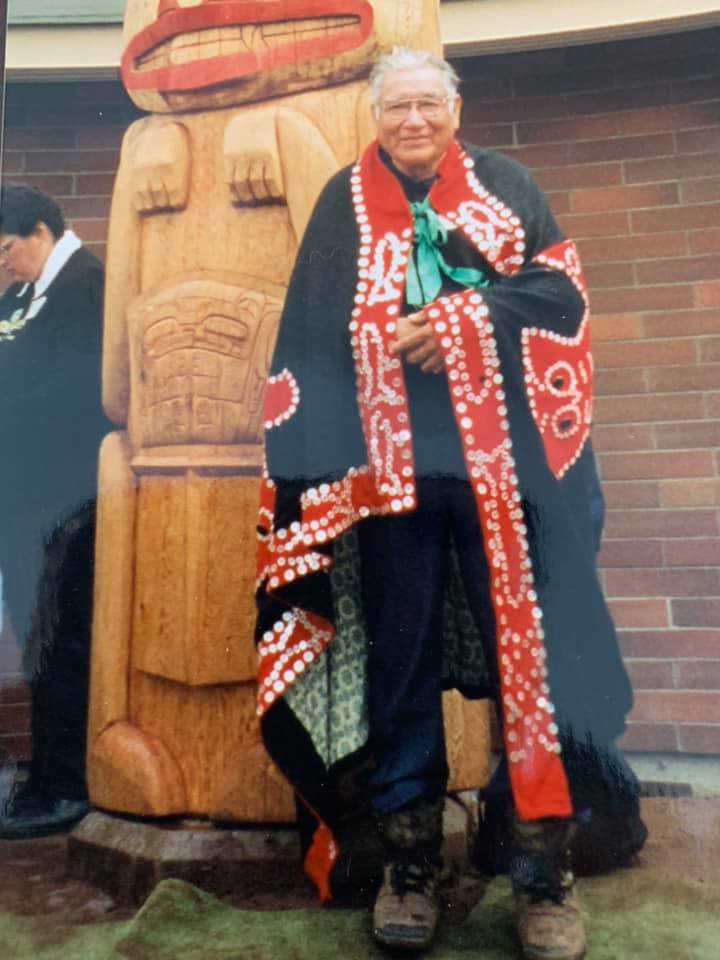 If anyone wants to question 2 issues in regards to Gloria George and her right as a successor as well as qualifications, we did establish right of succession here, and we also see she fulfilled the qualifications as laid by Wet'suwet'en Law.
For more evidence refer to the photos and coverage of Gloria and Andrew George in our article here. in particular the reference to Chief Smogelgem's regalia (Blanket) looks like. It bears the killer whale logo on both sides and a large sun made of shining sequins in top center, as does that of Gloria's regalia. The headdress in this case is grouse/killer whale.
Now compare that to a man that when he was barely old enough to be called an adult, 18 years ago, declaring he was already Chief Smogelgem, What did the Office of the Wet'suwet'en do about it? Absolutely nothing.
When they managed to attract the attention of the Globe and Mail,  this is what the chiefs said.
The Unist'ot'en camp has been endorsed by five prominent Wet'suwet'en house chiefs, part of a hereditary system of 13 house groups that fall under five clans. The five men (with their Indigenous title, followed by their house group and clan) are: John Ridsdale (Na'Moks) from Rafters on Beaver House under the Tsayu clan; Warner William (Knedebeas) from Dark House under the Gilseyhu clan; Jeff Brown (Madeek) from Where it Lies Blocking the Trail under the Gitdumden clan; Ron Mitchell (Hagwilnegh) from House of Many Eyes under the Laksilyu clan; and Warner Naziel (Smogelgem) from Sun House under the Laksamshu clan.
Mr. Naziel took over the Smogelgem title from Ms. George.
Five  Chiefs none of them were from the Sun House, and Warner Naziel is NOT from the Sun House, so it begs under whose authority can they strip titles? Nothing in Wet'suwet'en Law gives them that right, I publicly challenge them to prove they have that right.
Let look closer at Warner Naziel, first look at his blanket, its completely the wrong blanket for the Sun House.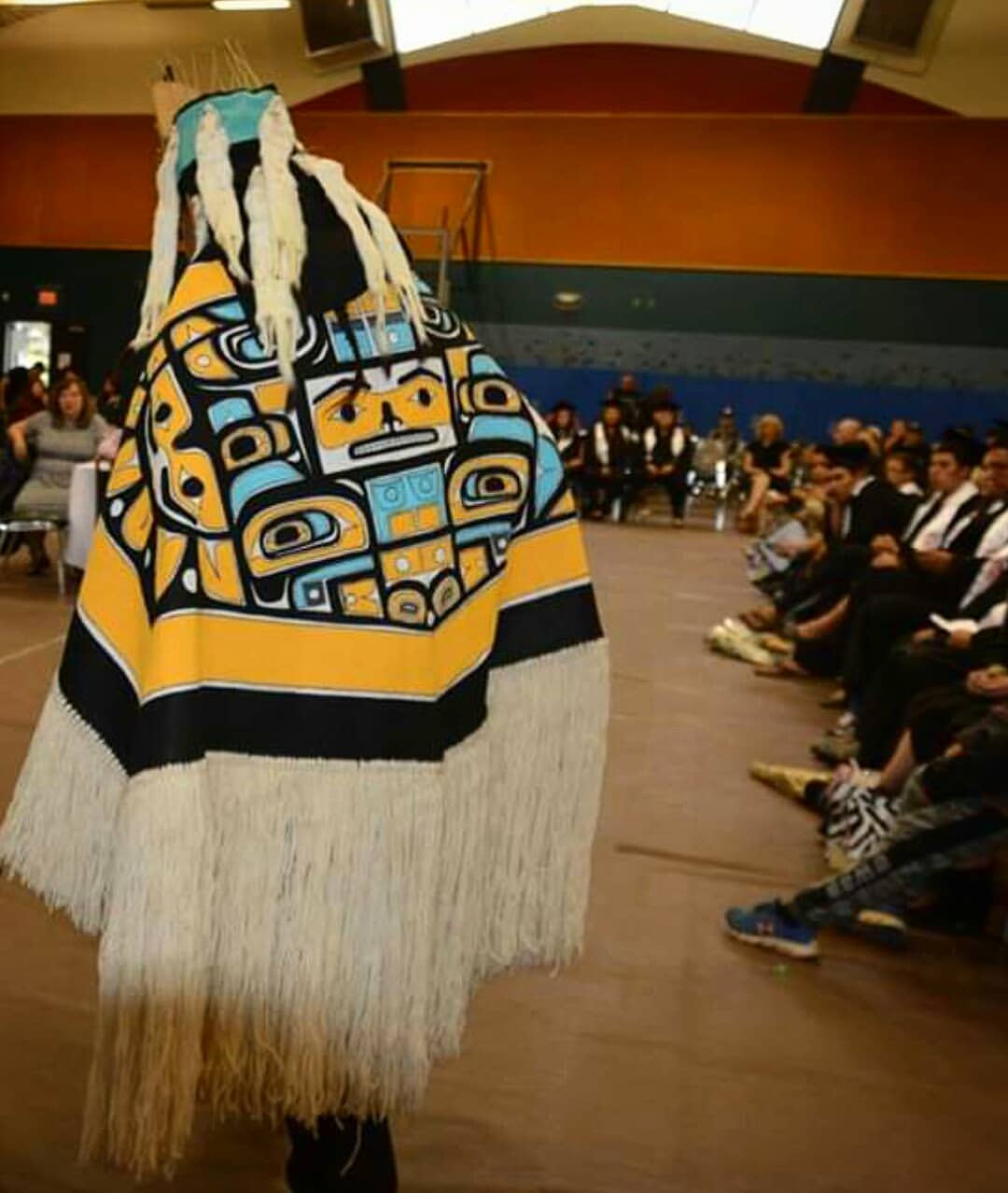 Here is what the Smogelgem blanket should look like.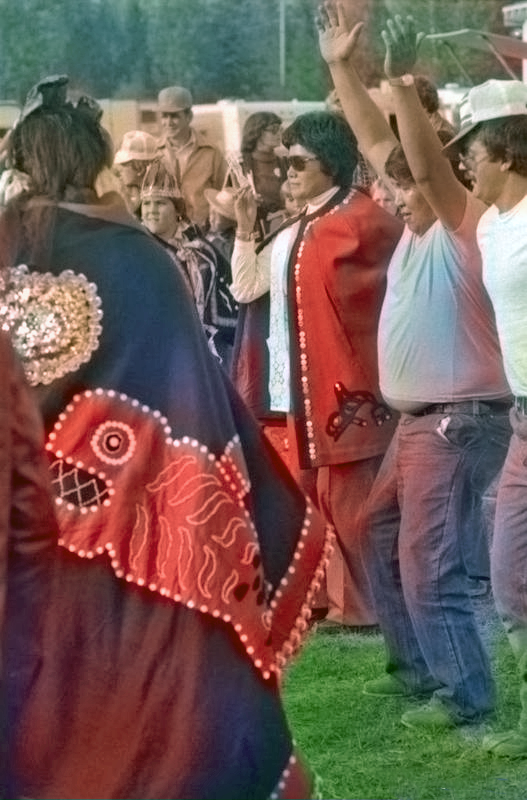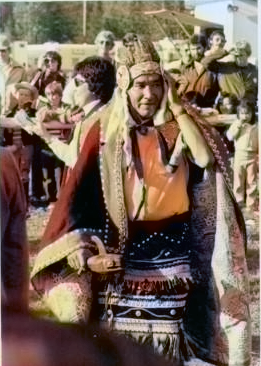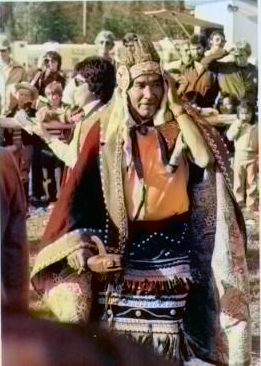 A further study on the family of Warner Naziel shows the real clan he belongs to the Owl House and that house already has a hereditary chief by the name of Kloum Khun, now Alphonse Gagnon of the Owl House.
According to Alphonse Gagnon, Warner Naziel's mother is his sister. In a matrilineal descent system, an individual is considered to belong to the same descent group as their mother. This matrilineal descent pattern is in contrast to the more common pattern of patrilineal descent from which a family name is usually derived.

So both Alphonse and his sister would share the same hereditary house of their mother.
If Alphonse is from the Owl House, in this image EGO his mother is from the Owl House, then the sister of Alphonse is also of the Owl House, and so is Warner Naziel from the Owl House. Therefore the only way Warner Naziel could become a hereditary chief is if Alphonse Gagnon passed on the name Chief: Kloum Khun.
---
So its very clear that Warner Naziel could never get the name Smogelgem, it belongs to the Sun House also of the Laksamshu Clan. There is a third house in that clan called Twisted House, but all records of family members died off during a disease epidemic. If it was an available protocol to jump from one house to another in regards to earning the position of hereditary chief then  someone would have taken the position of hereditary chief for the Twisted House a long time ago.
That is not how a matrilineal descent system works, not even inside the Wet'suwet'en system. It seems the Wet'suwet'en Law is being used as a means of blind eye convenience for the "Wet'suwet'en Five" They do the song and dance for the world press to see, but in real life they do not support or apply Wet'suwet'en Law.
I say this because first of all in order to strip the title away from someone, it means they have already conceded that they have the title. We also in previous article have shown to two legal documents where the Office of the Wet'suwet'en indicated by sworn oath that Gloria George is Smogelgem.
The Office of the Wet'suwet'en have hidden from the public, the exact rule within Wet'suwet'en Law leaving the public to "assume" its part of Wet'suwet'en Law. They simply shrug it off and say "Eagle down Is Our Law" from a book written by Antonia Mills who is a professor in First Nations studies at the University of Northern British Columbia.
The only way the Office of the Wet'suwet'en could legally stop Gloria George, or even Darlene Glaim from using their position as legal hereditary chiefs, is to get a court order forbidding them to use it. In doing so they would have to prove they had the right to remove their titles. Likewise if they claim that any agreements they enter into are invalid, once again they would have to prove that they had the right to strip hereditary chiefs of their title.
It begs an even larger question, how can the hereditary chief of one house strip the title from another hereditary chief from a house they have no say in?
The following must be an outrageous lie, how can they groom Warner, when they already gave the title to Alphonse Gagnon? Warner's mother is from the Owl House and so are the parents of Alphonse Gagnon, who are also Warner's grandparents from the mother side.
Other than by sheer ignorance, its hard to understand how such a mistake could happen, barring it was not an intentional attempt to circumvent Wet'suwet'en Law.

"Mr. Naziel said his parents and grandparents "were preparing me far in advance" to become a hereditary chief. "From the age of 3 or 4 years old, I would sit at my mother's feet at each feast while my grandmother sat nearby, learning what was happening and being told how things were working," Mr. Naziel said."
Next look at what Warner Naziel says to the Globe and Mail.
"Mr. Naziel said Ms. George crossed the line when she aligned her herself with Coastal GasLink. "After we realized that she was representing herself to government and industry, including Coastal Gaslink, as both having the authority of a head chief and also the backing of the clan, our clan held a feast and formally rescinded the name Smogelgem," said Mr. Naziel, who laid claim to the title in 2016. "All of the hereditary chiefs of my clan, including me, witnessed this and spoke."
Even though all clan meetings are recorded in the last 20 years, there is no record of the Laksamshu clan meeting, all of the hereditary chiefs (there is only one other hereditary chief in the Laksamshu clan) leads me to believe there was never a clan meeting that took place, what did take place was a meeting by the "Wet'suwet'en Five" and there is a record of that meeting. In order for a clan meeting to take place, it must be formerly announced, it was not.
There are so many inconsistencies coming from Warner Naziel, its clear he either does not have the capacity to understand the truth, or simply chooses not to tell the truth
The question of why the "Wet'suwet'en Five" allowed Warner Naziel to claim he is Smogelgem, contrary to Wet'suwet'en Law is one issue, even more brazen and bazaar is that long before anyone ever dreamed of the Wet'suwet'en Matrilineal Coalition, Warner Naziel for the last 19 Years has claimed he is Chief Smogelgem, and for 19 years the Office of the Wet'suwet'en never once corrected him. not even when they were filling out legal documents naming Gloria George as Chief Smogelgem.
Instead of punishing him for attempting to steal the position of hereditary chief, they actually endorsed him to the press as hereditary chief Smogelgem, in complete violation of Wet'suwet'en Law.
Yet when it comes to Gloria George a highly respected elder as well, the "Wet'suwet'en Five" like a gang of hoodlums raid the meeting she is in, to uphold Wet'suwet'en Law.
What a FARCE!
No wonder that the other three out of five Wet'suwet'en communities refuse to be part of the Office of the Wet'suwet'en, who hold control over all 5 clans. Three out of the five communities are legally operating outside of Office of the Wet'suwet'en's controlled system and Witset is also doing so as well, that makes four out of five who do not want to be told what to do by the "Wet'suwet'en Five"
There is only one path to Wet'suwet'en unity, first the Hereditary Chiefs need to put every member from all five communities on equal footing. To do that they would have to relinquish control for the greater well being of the Wet'suwet'en Nation.  Rule by force has already proven to be a disastrous failure.
---
The following were sent to us by our readers.
---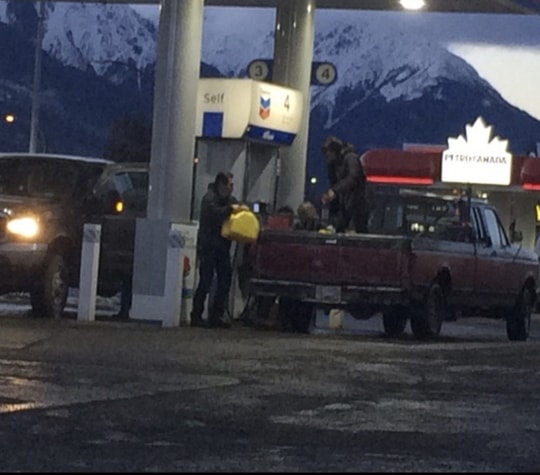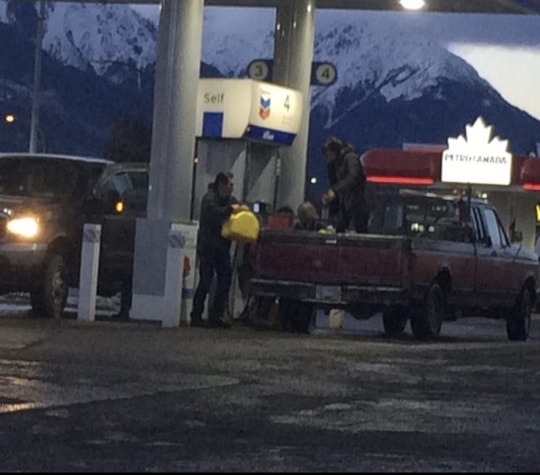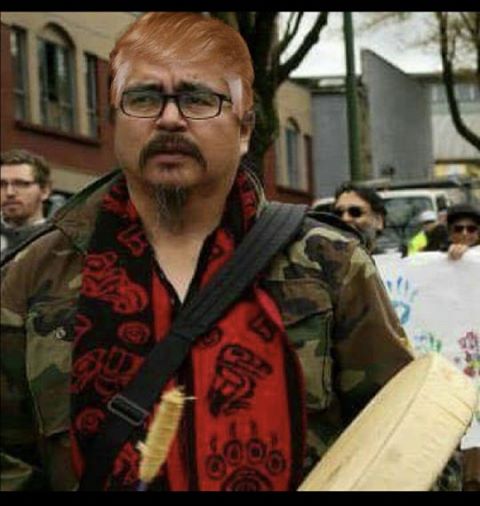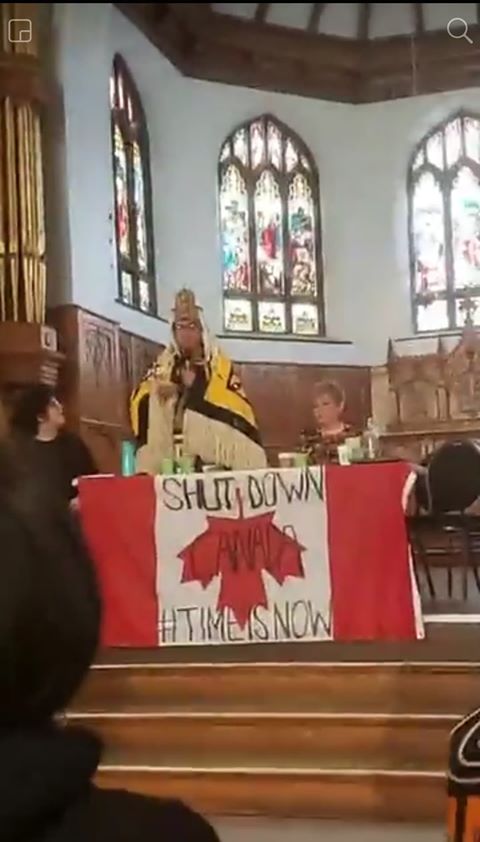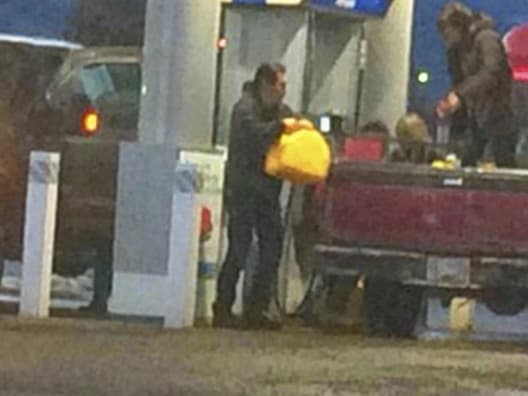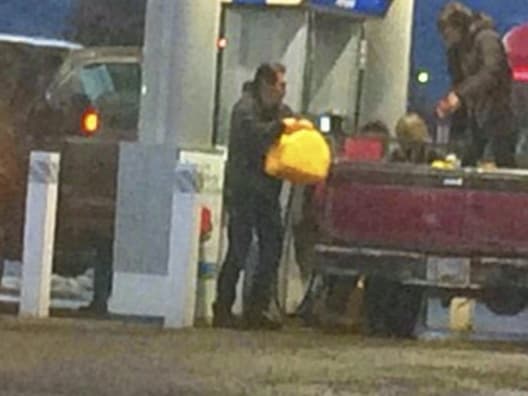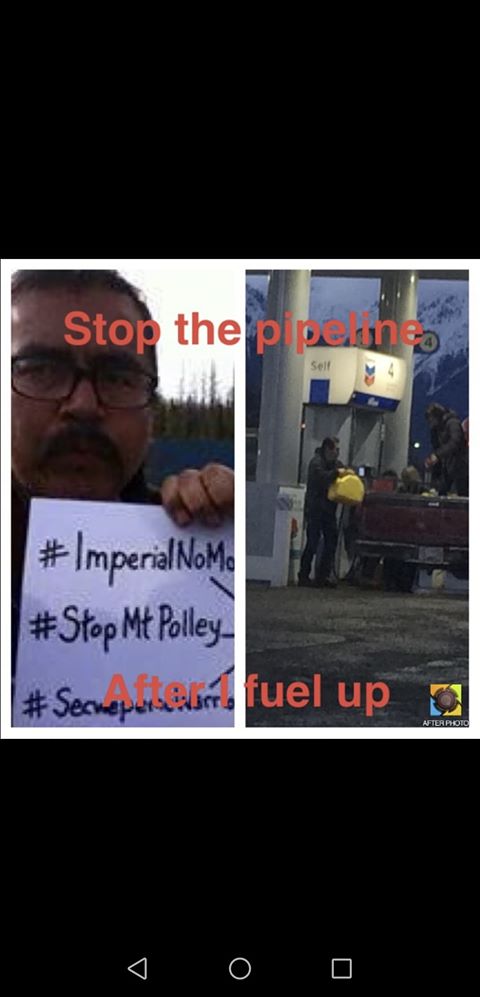 "Now you know the rest of the story"
brought to you by
"Two Feathers"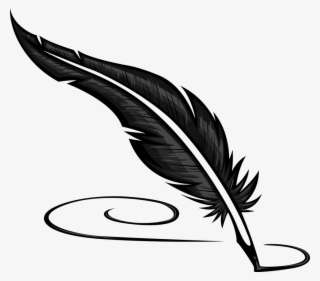 In the event we are using copyrighted material, we are doing so within the parameters of the Fair Dealing exception of the Canadian Copyright Act.


See our Copyright Notice