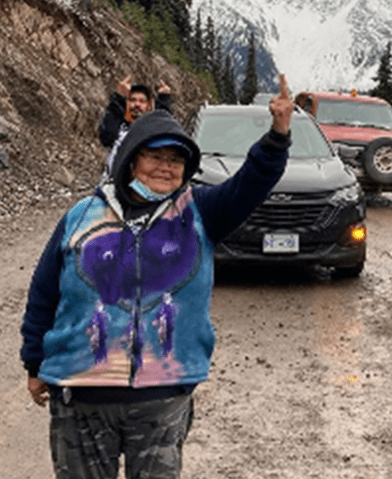 Janet Williams is one of those rare people who is (in our own humble opinion) being manipulated by others into a mother hen role, and contrary to the claims of blockaders, does not fit the Wet'suwet'en definition of matriarch. But it now seems blockaders have their own definition that makes anyone (female) who is not a child is a Wet'suwet'en matriarch. According to Wet'suwet'en a matriarch is an female elder who leads not only her immediate family, but that of all her parents (siblings) family members of multiple generations. There is only one in a family who is designated, and Janet Williams does not fit that role.
Keep in mind these so called "land defenders" are all just pawns of Franklin Lopez The secret operative behind the internal war in the Wet'suwet'en family.
The blockaders make a lot of noise about her arrest, but fail to explain how she escaped her arrest by claiming she had what might be a heart attack, then next day proudly protests the arrests at the Smithers courthouse. In a practice that seems to be increasingly a norm, lying has just become a required tool for these so called Land Defenders.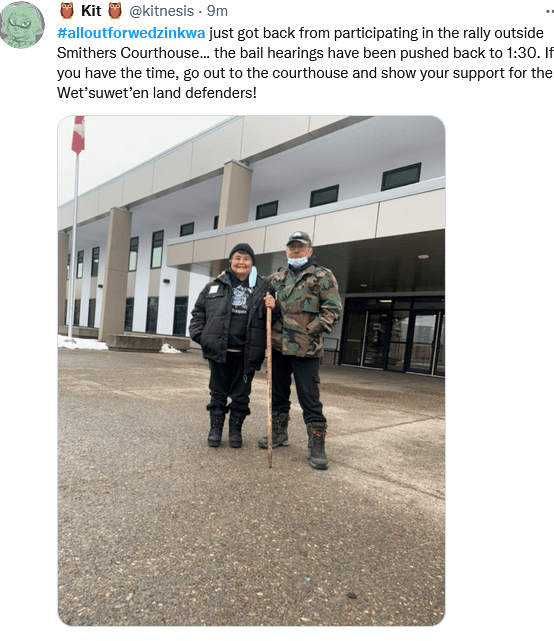 Regarding the above picture "relatively" speaking, her husband is Lawrence Bazil, who is the brother of Violet Gellenbeck who played an active role in stripping three Wet'suwet'en women of their title as Hereditary chiefs. (another case of all in the family) these plots always go deeper than the press ever takes them.
For the record, we felt we needed to respond to this, according to Molly herself 20 of the people arrested were not Wet'suwet'en so that means her so called kids are all outsiders, she executes her lies with precision, in our opinion Janet Williams is knowingly being deceitful. We also confirmed this in a full list of who was arrested near the middle of the page. Refer to the lists of arrests November 18th and another on the 19th 2021.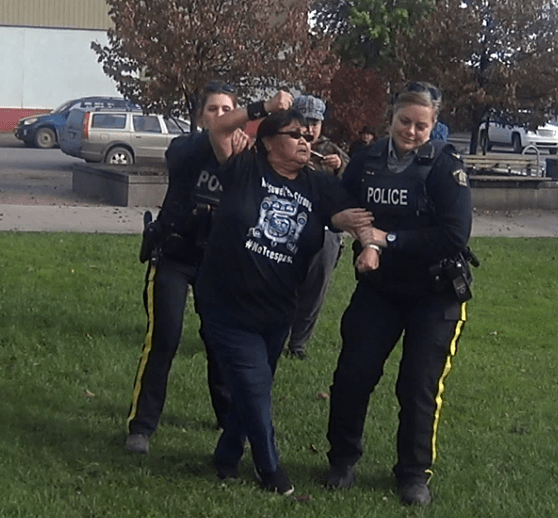 Here is the original footage as posted online.
---
Important Related Articles
May 3, 2022 Esteemed 44K Gidimt'en Matriarch – Smithers homeless persons?
October 14, 2019 "Sparks Flew" Now the rest of the story.
October 9, 2021 RCMP arrive at drill pad site access road.
October 15, 2021 Invasion – Our local communities under attack.
October 29, 2021 Wet'suwet'en – Respecting our ancestors
November 3, 2021 Community-Industry Response Group (C-IRG) in the Bulkley Valley – Welcome Back
November 8, 2021 Our Sacred Headwaters – a Human Portable Outhouse
November 14, 2021 Yintah – a documentary film about the Wet'suwet'en Nation
November 19, 2021 Anarchists and Warriors – A confession by Molly Wickham
November 22, 2021 Insurrection – List of players in the Bulkley Valley
November 24, 2021 Rape and death cover up by Molly Wickham and Frank Alec (chief Woos)
November 27, 2021 Million Dollar Molly GoFundMe  a fortune.
November 29, 2021 War in the Woods – Daily Update
November 29, 2021  War by Anarchists on Society
December 3, 2021   Taylor Bachrach sandbags RCMP in Parliament  Cody Molly Logan Colin
December 4, 2021   Memory Lane – Like peas in a pod.
December 6, 2021   Did CBC just team up with a terrorist?
December 11, 2021   Violent RCMP Raid on the Wet'suwet'en? When and where?
December 14, 2021   Nathan Cullen's letter of concern regarding RCMP Violence
December 17, 2021   The fallacy of "Land Back"
December 20, 2021  Where are our Wet'suwet'en leaders?
December 21, 2021  The case for a permanent RCMP station on the Morice West Forest Service Road
December 22, 2021  Molly and her gang once again occupy the drill pad site.
December 28, 2021  Anarchist Stool Bus – We uncover the down and dirty – Dec 2021
The rest of the story can be found in our 2022 articles, check there for more related articles.
---
#buildthatpipe #Wetsuweten #TidesCanada #WetsuwetenStrong #RCMPstanddown #AllEyesOnWetsuweten #NoTrespass #WedzinKwa #DefendTheYintah #RCMPAreMercenaries #WouldYouShootMeToo #LandDefenders #WaterProtectors #RiseUp #LightYourSacredFires #landback #blockade #takeaction #istandwithwetsuweten #decolonize #landdefenders #protectthesacred #gitxsanterritory #yintahaccess #pipeline



"Now you know the rest of the story"
brought to you by
"Two Feathers"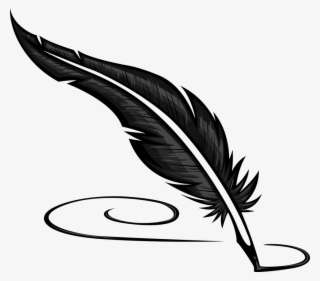 In the event we are using copyrighted material, we are doing so within the parameters of the Fair Dealing exception of the Canadian Copyright Act.


See our Copyright Notice