Updated:
The cover image is courtesy of Franklin Lopez and his company submedia. Yes that's not a typo, it says "fuck police." Despite the "Bambi" and "Gentle Ben" images that mainstream media likes to present to the public, this is the 'vicious beasts" they really are. If you need to wear R-Rated glasses put them on now as we are calling it for what it is.
Why do politicians get away with closing their eyes to the destruction of our nation by evil elements in our society.?  The NDP amigos, Gladys Atrill, Nathan Cullen and Taylor Bachrach all downplay the gravity of the situation, refusing to call it what it is "domestic terrorism." in the community of Smithers.
Gladys Atrill the current mayor of Smithers tells locals not to jump to conclusions, seriously? Are you dippers so out of touch you cannot even connect the well known dots?
Then you have Jagmeet Singh who came to Prince Rupert yesterday (October 29th 2022) is well known for condemning the RCMP, and suddenly pretends not to know about this terrorist incident, or in his silence shows he does not care.  The only time the NDP seem to care about violence is when they need protection.  So typical that folks like Nathan complain about his signs being vandalized but refuses to comment on vandalism of signs owned by those with differing opinions.
Canadians should not be on the hook for paying the costs of a propaganda film made by domestic terrorists. Its disgusting appalling and it needs to end.
Regarding our cover image, yes these people who openly admit to violence, are heavily connected to the Wickham sisters. As long as they do not take down the video, you can see it here. (CBC is working with these same people for the same goals.) This film clip was from last year, with the exact same intent.
Appearing on an Oct. 19 group Zoom call, Molly Wickham put out a call for action because she said the Wet'suwet'en protesters had "exhausted" all legal remedies to stop the CGL pipeline construction and needed help. Molly Wickham then proceeded to suggest that costing them money, meaning taxpayers, and industry, is the only remedy that seems to work. Now how do you translate what Molly said into costing Canada or CGL money? Would 1 million in damages at the Sunshine Inn qualify? You tell me.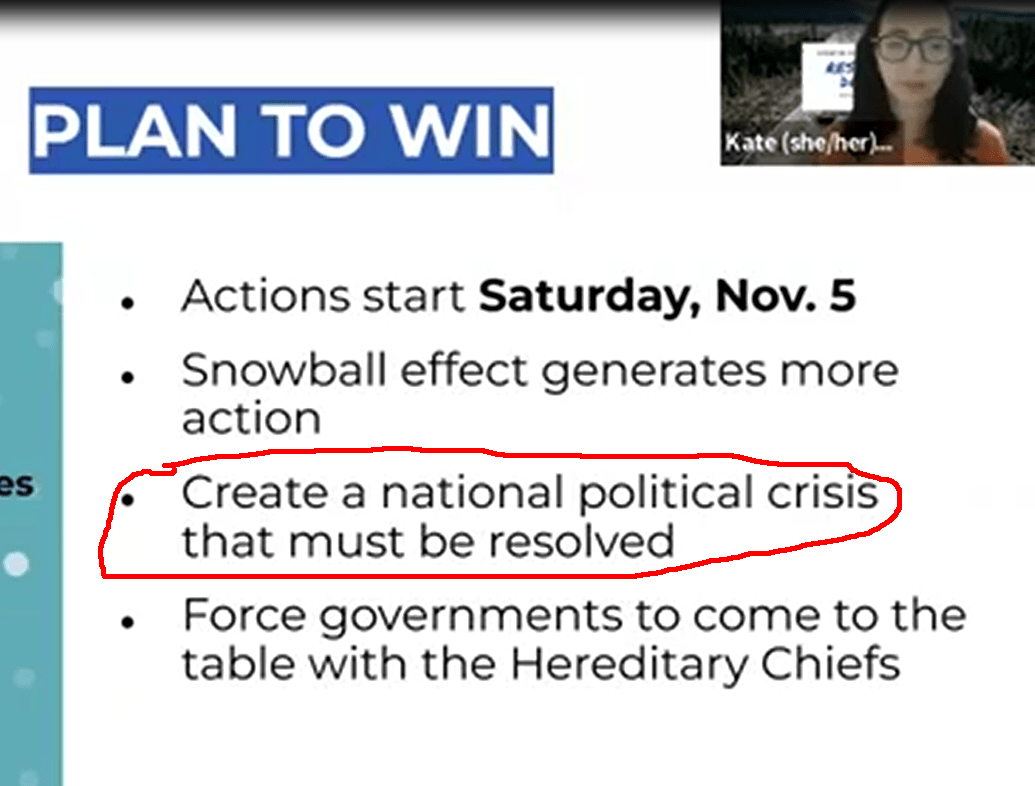 Read the words from their lips carefully, should Canadians be funding people like this? Should we even consider them to be decent enough to be having talks with them?
QUOTE  – bits_jen
stay low. go slow. be safe my friends as we grieve and navigate all the fuckery the universe is shedding and we need to focus on our love and dodge the garbage. resting before the next thing. check in on each other. breathe. wait for the signs.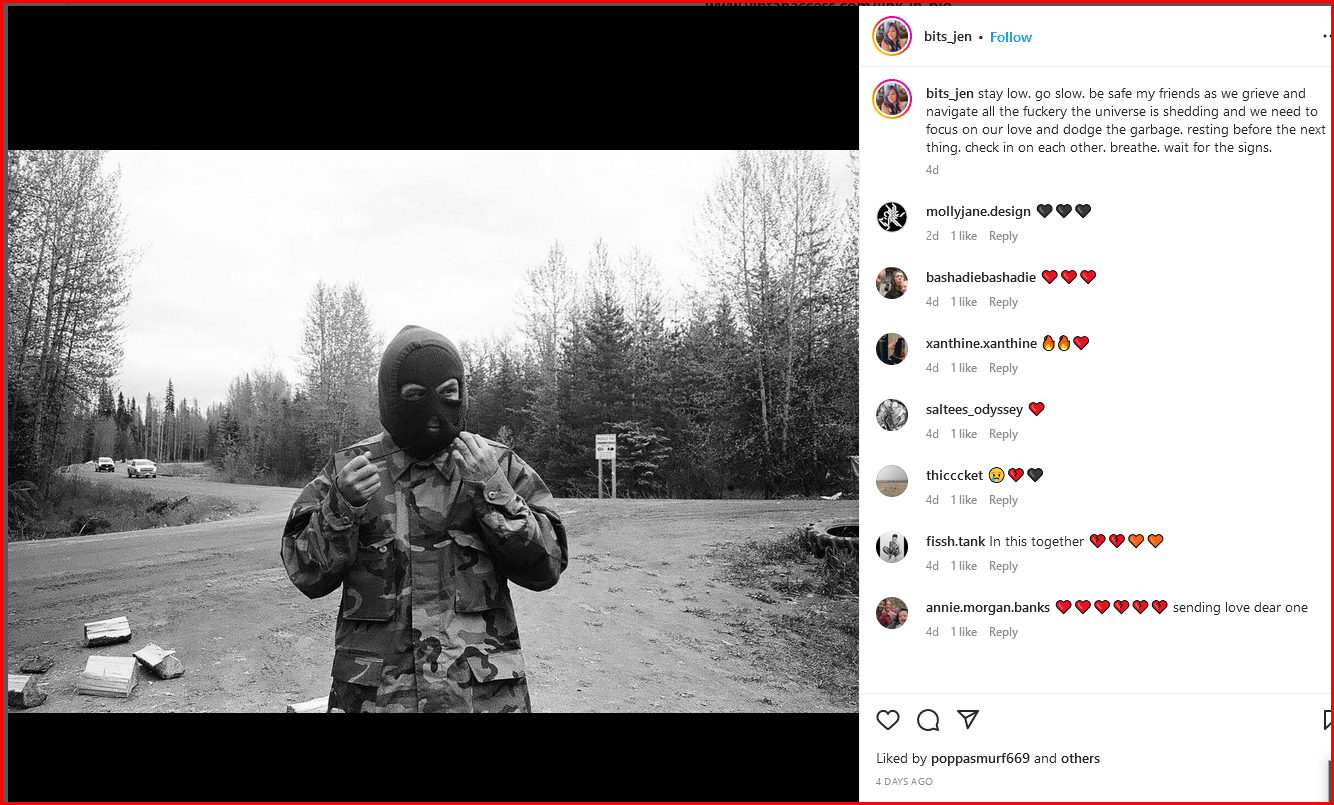 What are you thoughts when you read this message a few days before the terrorist strike on the RCMP in Smithers?
If you would consider this foul mouth a lady a decent woman, you are obviously from a degenerated class of humans.  Decent  people do not talk like this.  Its not the only clip we have where she talks like a bar room brawler.  Next we have another one of these degenerated humans who shoots off his mouth like a kid who has never seen discipline in his life. This man is an immigrant from San Juan, Puerto Rico and is heavily funded by the Tides Foundation.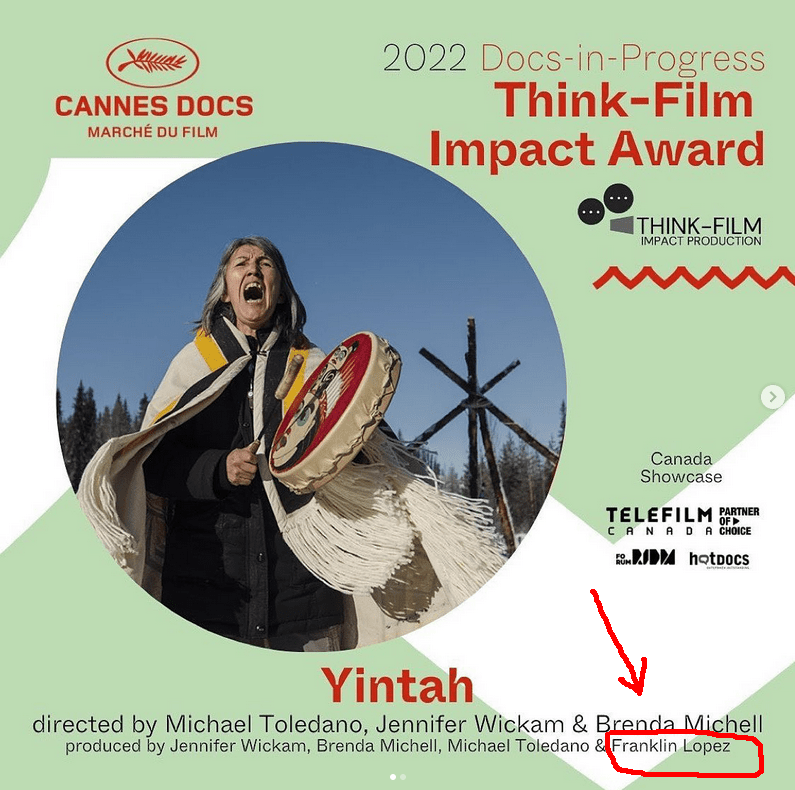 This CBC documentary has a budget of $1 M – $2,5 M  (Yes, millions dollars of taxpayers money) Read it here.  Speaking of raving lunatics, read it from his own lips. Yes those are the words of Franklin Lopez. who is owner and operator of Sub.Media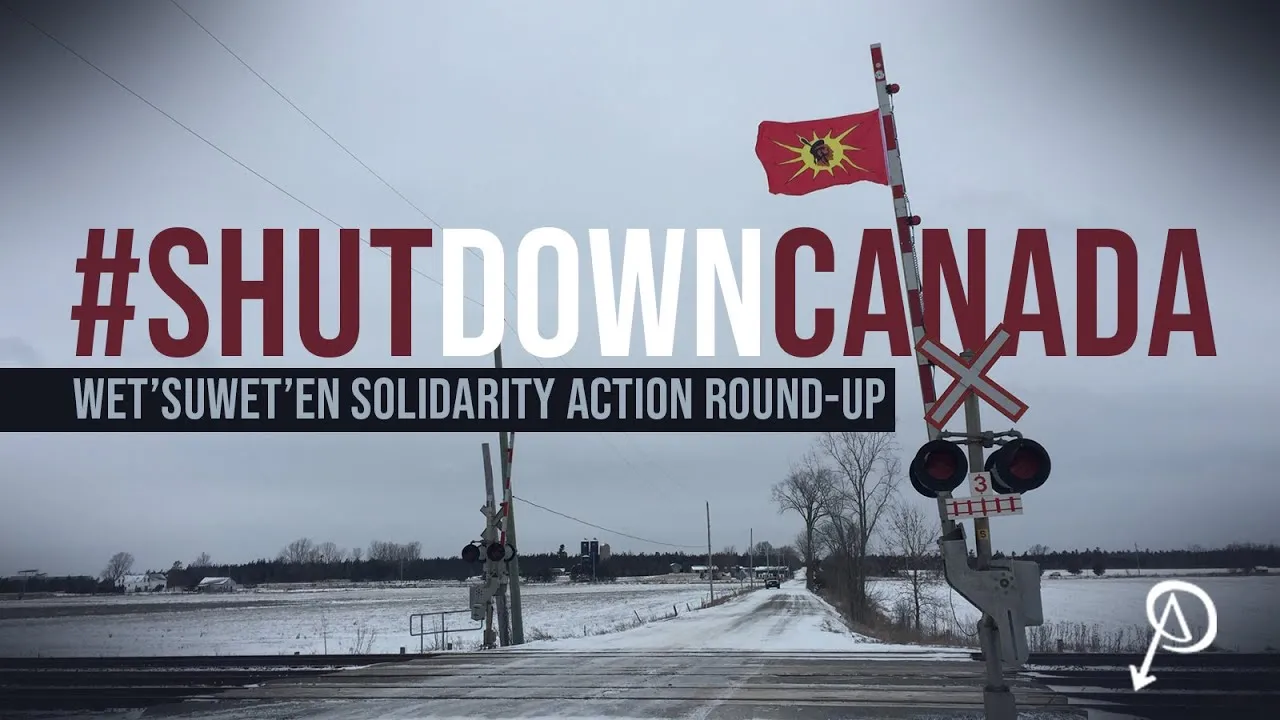 The Canadian Broadcasting Corporation must be very desperate that they need to work with directors who are better suited for roles in brawling barrooms than pretending to represent the Wet'suwet'en people. These people are an insult to the Wet'suwet'en people, these are uncivilized humans, and insult the intelligence of the Wet'suwet'en Nation. CBC is making a mockery of the Wet'suwet'en Nation and their culture by supporting these people who really belong in jail.
Seriously what is wrong with all mainstream press when they close their eyes to connections like these. They demand respect but talk like a drunken raving lunatics.  Is CBC so detached from reality they let anyone spend tax payers dollars?
How do you ever think Canadians could possibly respect despicable anarchists like you folks? What Canadians need is goverment and police willing to protect us from these types of people and that the days of costing taxpayers millions in damages needs to end up with jail terms appropriate for terrorists. Taxpayer will pick up the bill, as all of these attacks are tax write-offs.

Before I close now this update. "Those idiots still at it out @ 44km camp, this has to stop, idiots throwing fire crackers and smoke bombs at the security trucks last night. After burning the injunction signs following the Smithers Sunshine Inn attack. We need to get those idiots out if there!!!!!!
Posted today!


Also read Franklin Lopez – Blockader Profile
and Did CBC just team up with a terrorist?



"Now you know the rest of the story"
brought to you by
"Two Feathers"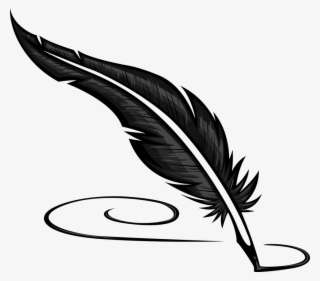 In the event we are using copyrighted material, we are doing so within the parameters of the Fair Dealing exception of the Canadian Copyright Act.


See our Copyright Notice