Updated Jan 23rd 2023
The bottom line is they cannot commit acts of sabotage and or terrorist acts as long as the police give them no rtoom to commit these offences, so they are desperate to remove the RCMP before the pipeline is completed.
As they say there is always a devil in the details, here is another one by CBC and you guessed it, by the Molly approved reporter Brett Forester.

Fair enough, but keep in mind that the Sierra Club and the Dogwood actively run letter writing campaigns, the Sierra Club has over 10 Thousand members, and the Dogwood with its 260,000 supporters, its no wonder that we read the following.
So they managed to send in 500 formal complaints, the complaints contain unproven allegations.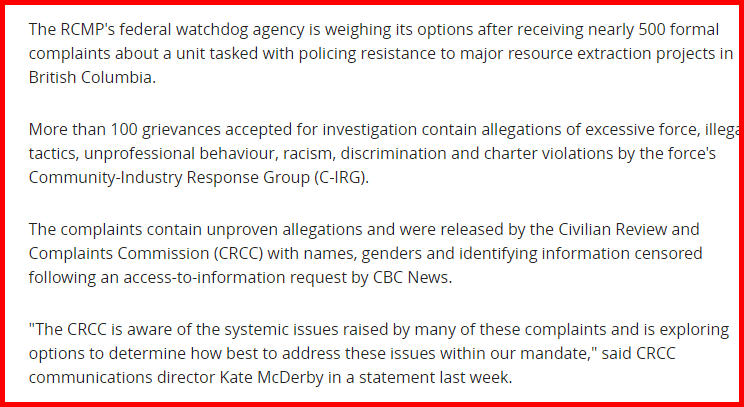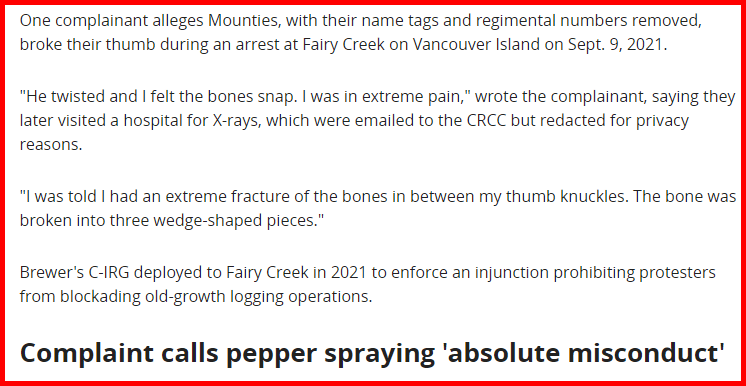 ---
Jan 20th 2023
We had hoped we would not need to post much in 2023 but the (pardon the expression) the bullshit is getting too thick to ignore. Our goverment subsidized media is doing nothing to correct these outrageous lies, and they are even paying cesspool media like Narwhal and the Tyee to write these stories via the $50 million Local Journalism Initiative, add to that another $60 million pandemic-specific Emergency Support Fund and top that off with a another $10 million "Special Measures for Journalism"  So its clear that the so called independent media is now completely dependant on goverment funds, your tax dollars.
Now down to the pork and beans of this post. Some of these tidbits did make us chuckle, but others were a bit more staggering in regards to how big can a lie be without the mainstream media even commenting?
The posts are not necessarily posted in chronological order, there was a lot more in social media but we just posted some of the highlights.

---
Here we go with yet another Tyee attack on the legal licensed construction of the Coastal Gaslink pipeline, and once again another article from the Wickham approved media Amanda Follett Hosgood.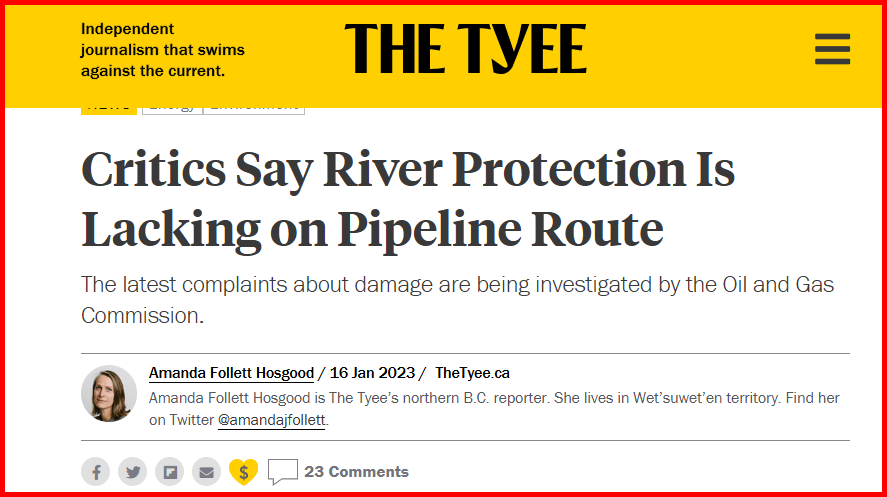 Imagine that "Critics" so it begs the question just who are these critics? How many of them are funded by the American Tides Foundation? OK lets have a look, "On Thursday, the David Suzuki Foundation issued a statement about the water-quality concerns," and then "Shannon McPhail, executive director of Skeena Watershed Conservation Coalition, said she has experienced frustrations while trying to determine which regulatory body is monitoring Coastal GasLink"
Then "In emails to The Tyee, both the EAO and OGC noted that the pipeline's work is authorized. The EAO said it has done more than 50 inspections, issued 37 warnings, 17 orders and two fines. "Compliance and enforcement officers have been finding continued improvement in CGL's mitigation measures for erosion and sediment control."
Based on our own research have a look here, where we prove that both the so called "critics" are really Shannon McPhail, and the David Suzuki Foundation, both funded by American Tides Foundation. And somehow Amanda Follett Hosgood is stumped as to why the the EAO and OGC did not react to this Tyee propaganda trick, both the EAO and OGC noted that the pipeline's work is authorized, and none of the images they provided show non compliance.
So this story by the Tyee is just another underhanded attempt to panic the public, into believing there are serious concerns where there are none at all. In the end the Tyee tries to give Coastal Gaslink the proverbial black eye and this story sinks away into the annals of history. Once again it shows that Amanda Follett Hosgood is just another sleazy writer, making unsubstantiated accusations as if she has a free licence to make false accusations. Here is another case where American liable lawsuits would come handy to protect the public from underhanded fake journalists.
Clearly the EAO and OGC will not allow either the Tyee or Shannon McPhail, or David Suzuki Foundation to bait them into taking action at the whims of a few radical environmentalists.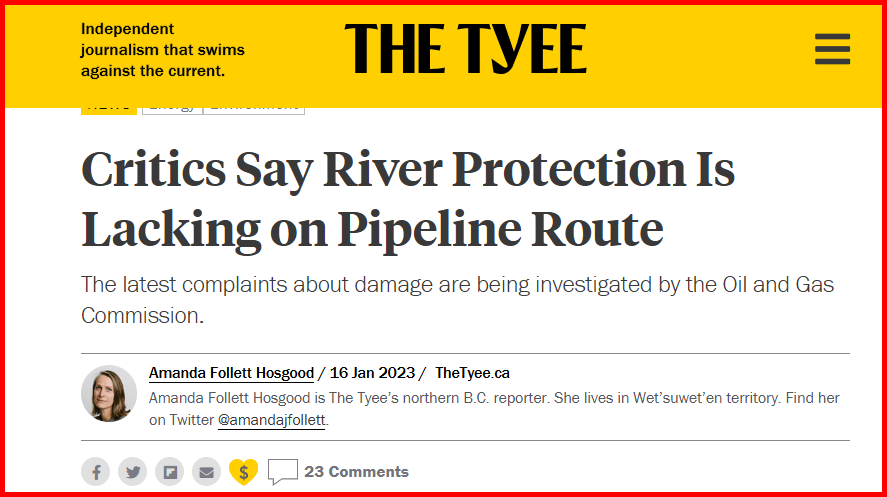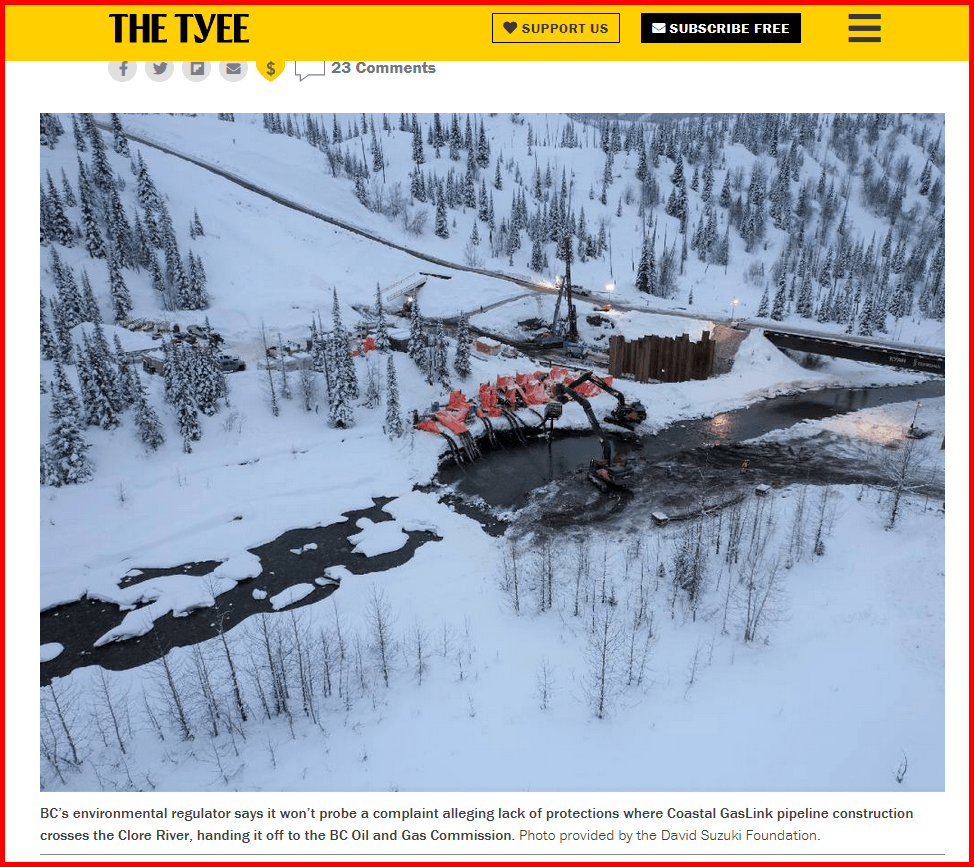 ---
Finally the confession we have been waiting for, for several years we have been saying the Wickham sisters are not Wet'suwet'en and not from Wet'suwet'en Territory, we kept saying they are from the Stellat'en First Nations "Molly Wickham is not a Wet'suwet'en".  For years in a row they denied it over and over, claiming they were born and raised local, all lies, now they admit it.  Now in a Bandi Morin exclusive on Ricochet (find it here) As always putting the blame of their own violence and making it the fault of others. By no means do we deny the violence that took place to aboriginal people living in the first half of the 1900's, but in recent times its always the people least connected to First Nations, and the ones with the highest amount of colonial blood in them that complain the loudest. Breaking the law has found new life hidden inside the word "trauma" the perfect excuse to commit lateral violence on their own people.
Watch closely now as the truth unfolds.



Note it says June Wickham is from Stellat'en First Nations.  The part about 60's Scoop is coincidental as family has told us that it was a issue of alcoholism that resulted in June entering social service care. Yes there was a 60's scoop, but no she was not a victim of it. And we know that her (Molly) father Don Wickham is pure "colonizer" or a white man. So I would suggest you read "Molly Wickham is not a Wet'suwet'en" to discover just how she determined that she is now a Wet'suwet'en.
In reading that article you can see how we proved that if you follow  rules of matrilineal lineage, that the closest claim the Wickham sisters can make is Gitxsan, the only connection they have in thier grandparents is on the grandfathers side, as he was Wet'suwet'en. I would like to repeat, even Molly Jennifer and her mother June all agree they are in a matrilineal society, so how is it they defy it to claim Wet'suwet'en heritage?
Clearly she also struggles from an identity issue, if you follow the matrilineal system, Molly follows her mother, who follows her mother, who follows her mother, in Molly's case that leads back to her grandparents with Gitxsan on the maternal side and Wet'suwet'en on the paternal side.
---
Next we have Dan Mesec who has extremely close ties to the Skeena-Bulkley Valley NDP Association and SkeenaWild, Skeena Watershed Conservation Coalition and Raven Trust publishing this one on his blog. No need for any references needed as there are none, and somehow lost in translation that the Federal Fisheries are not the same thing as the  B.C. Environmental Assessment Office. Somehow its OK to say the Federal Fisheries even if they are not even part of any investigation. To date no evidence has been submitted that show that Coastal Gaslink is not in compliance with their mandate to make a river crossing there. There is however a concerted effort to make the public believe there is a violation even without one existing.
But the liars club, or The Eco Cult Collaborative works hand in hand as you can see below, again completely unsubstantiated lies from an organization that recently made a power-grab for the control of the BC NDP. (Environmental organization probed for activities related to BC NDP leadership race) A complete set of lies built out of either ignorance or intention.
---
Somehow I cannot help but wonder at the 10's of millions of wasted dollars spent on legally proceeding with a goverment approved project is not setting the stage for one of the biggest lawsuits of all time against those people who cost both Coast Gaslink, and the taxpayers multi millions of dollars. If I were part of the Molly and Freda gangs I would seriously think about moving my GoFundMe to the Cayman Islands, because all of it is proceeds of crime. The following is a clip from the rag Narwhal, that makes a good case in point.
 

"conspiracy, intimidation, trespass, creating a public and private nuisance and "intentional interference with economic relations by unlawful means."
---
Our next story is about another group that should be the target of civil lawsuits, the Peace Brigades International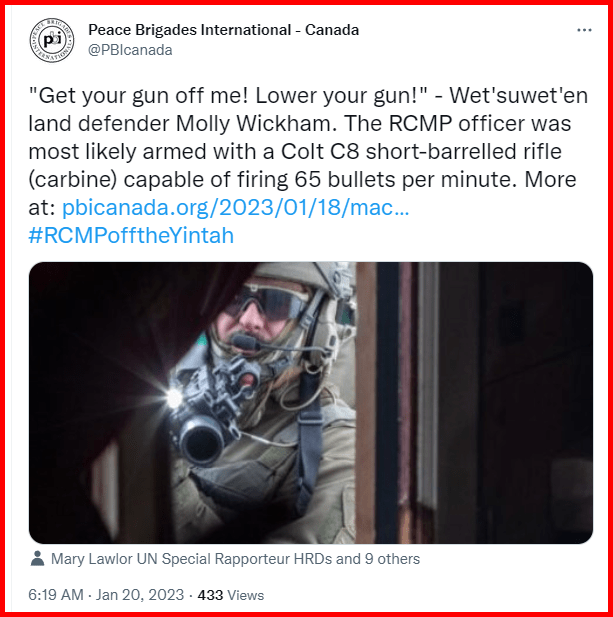 In a full blown effort to lie of deceive the public, Peace Brigades International deliberately post comments, the truth is simply a casualty of the end justifies the means. The ARWEN ACE is a breech-loaded less-lethal launcher which fires a variety of 37mm less-lethal munitions which includes direct impact batons, chemical irritant delivery munitions and smoke delivery munitions. ARWEN ACE. Type. Less Lethal Launcher. But hey, the truth does not do well for the narrative of hate mongering.
Next was another outright lie.
The real truth is that the report was forwarded to the BC Oil and Gas Commission, according to a statement commission communications staff sent on Jan. 13. "Based on the imagery and information we've seen, [we] did not find any non-compliance," it reads. So once again they are trying to stir up emotions, and lies, simply because they can get away with it, its a slander campaign by a bunch of creeps from Ontario. Once again proving they do not care about truth, or about our nation and their intent is to cause harm to the Canadian economy.
---
Of greatest significance here is that her stepfather allegedly works for OJ Pipelines, and O.J. Pipelines is one of Canada's largest pipeline contractors, has partnered with three local Indigenous communities along the project route to build Section 7 of Coastal GasLink, meaning the very land that Frank Alec and his stolen title of Chief Woos is trying to stop the same pipeline from being built, is the same land where her step father is allegedly working for CGL. As they say truth is far stranger than fiction, you cannot make this stuff up, instant karma, working both ends inside one family.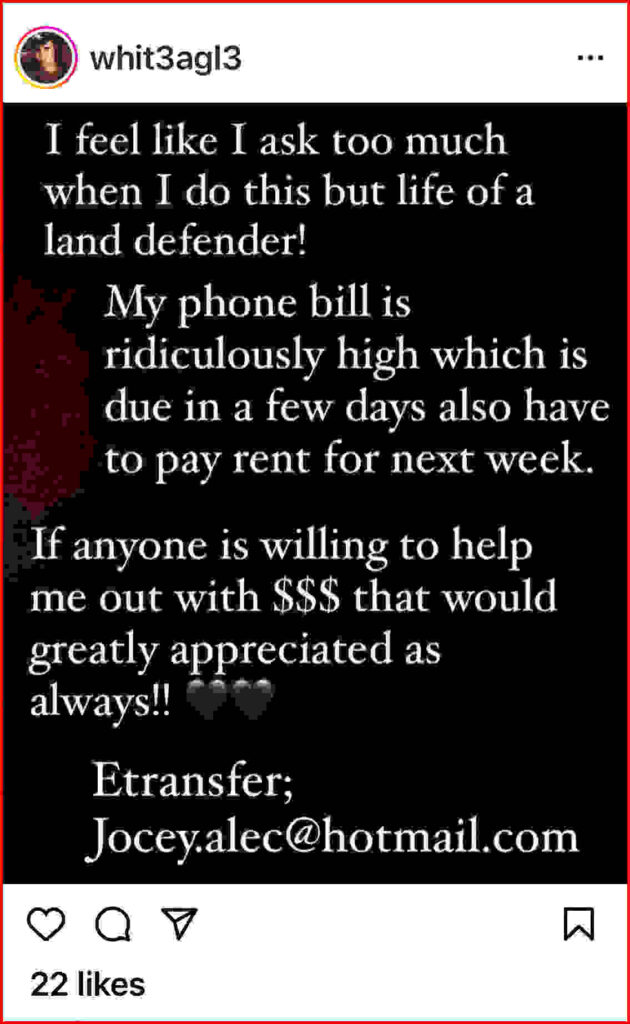 But it gets better, we next found this comment in social meda



"Now you know the rest of the story"
brought to you by
"Two Feathers"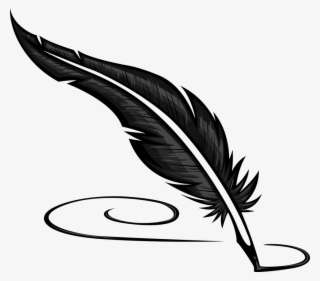 In the event we are using copyrighted material, we are doing so within the parameters of the Fair Dealing exception of the Canadian Copyright Act.


See our Copyright Notice