In northwest British Columbia Eco-Radicals are backed by a "billion dollar" American smear campaign to shut down its competition in our part of the province. This is worse than David vs Goliath they are using our own citizens against us.

They are like a well oiled Mafia, hiding as dozens of organizations pretending they care about our environment and our salmon.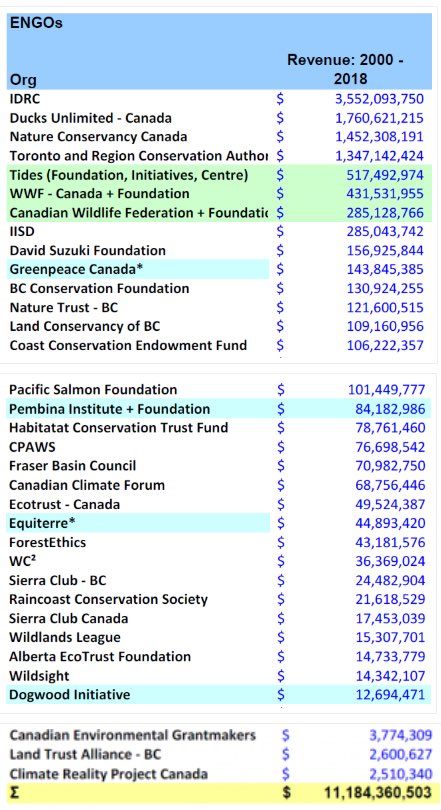 Environmentalism the art of Leaf Lickers – Introduction to this page. Our goal is to create a page that links them all together, they are all in it together, and they probably have more organizations than they do executives that runs them. Its the same handful of people behind dozens of organizations in an effort to buffoon the public into believing there is mass support for something that has very little real support. Most of their support comes from people that were fooled into believing this was the will of the majority. Our goal is to show the public who they are, and where they get their funding to pull off a multi million dollar lie. Be sure to check out linked names to get more detail about these peoples activities.  The primary goal of having so many organizations is to allow the same people to voice opinions from multiple stages to give the illusion of mass support.
Before we start I want to point out that none of the below would exist without funding directly of indirectly by the American Tides Foundation. Be sure you read Everything you need to know about the Tides Foundation
Remember this, the American Tides Foundation funded more politicians from "environmentalism into political office" in Canada than any single political party has ever accomplished.
It should come as no surprise when you look at the bio's of elected leaders, how many of them are directly tied to environmentalist groups.
The quote below comes from the Financial Post
please do not skim read the names, remember them as they will appear over and over and over again on our pages
U.S. tax returns and these covering letters indicate that Tides has funded the participation of at least 15 Canadian environmental charities in the Tar Sands Campaign. They are: Canadian Parks & Wilderness Society, Driftwood Foundation, Ecojustice, Environmental Defence Canada, Equiterre, Georgia Strait Alliance, The Pembina Foundation for Environmental Research & Education, Northwest Bioregional Research Institute, Raincoast Conservation Foundation, Sierra Club of B.C., Sierra Club of Canada, T. Buck Suzuki Foundation, Westcoast Environmental Law Research Foundation, Western Canada Wilderness Committee (WCWC), World Wildlife Fund and Tides Canada. The Georgia Strait Alliance and WCWC were funded for the Save The Salish Sea campaign which aims to block the export of coal, oil and LNG.
The federal budget for 2012 included $12 million for charity audits. "It's a witch hunt," said the New Democratic Party, a "war on charity." But there was good reason for these audits, though some of this evidence didn't become publicly available until late in 2013.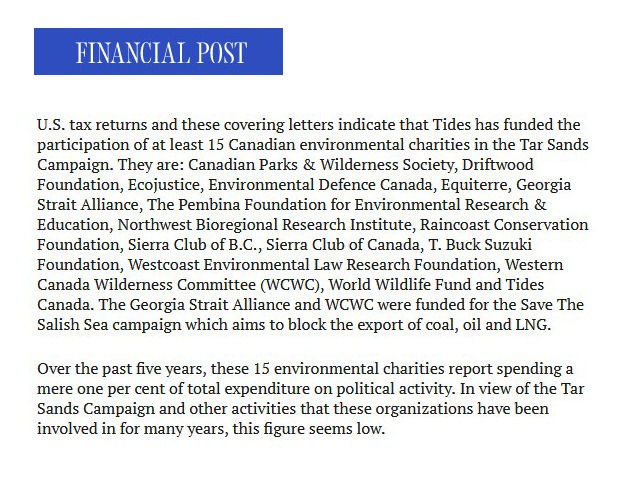 They talk green but they suck the life out of the real environment, and stagnate jobs, all in the pretext of caring for our environment. Such a noble cause, never working to produce anything other than activism, we used to call them shit disturbers when I was a kid, then tree huggers in the 60's, then somehow they were renamed by their own media peers as environmentalists.
Having met so many of them the one thing I can assure you is that they have much more in common with the pencil than they do with the actual environment. Loggers, miners, trappers, geologists, gold panners, tree planters, sawmill workers, the people who choose hands on labor in the north are your real environmentalists, the people who really care about saving our environment, not the Imported leaf lickers like Nathan Cullen from Toronto, Taylor Bachrach from McBride B.C., brought to us residents in the north by the Sierra Club. None of them ever did a physical days work in their lives, they are purebred pencil pushers.
Just look at how many now so-called local environmentalists hail out of Toronto, all with one objective, to destroy our way of life. These leaf lickers hide behind the idea of protecting our wild salmon and or indigeounous people when in fact they use both to shield the themselves from the public, by hiding their real intentions.
Has anyone ever wondered why there is NO connections between these radical groups and the local Rod and Gun Clubs all over BC?
The reason is simple, local Rod and Gun Clubs want nothing to do with "leaf lickers" they depend on working here in the north, they love and respect our environment but now cringe at the word environmentalist due to the abuse by so many leaf lickers. Those who claim to be environmentalists today are living on funds paid out to activists by American Oil and Gas and mining industries,  funneled through the Tides Foundation, then renamed into other so call environmental groups. (see the list just below the BC Mining Law Reform further down this page)
Reference list to "Leaf Lickers" in the North
This is just the start a list that will be updated with links that show how all these people are connected in an effort to undermine the industrial growth of our back yard. We are still in the early stages of this page, come back soon. It may be shocking but in terms of actual people (the leadership) we are talking about less than 100 people who are effectively shutting down our province. In a fair and just world they would be called Eco-Terrorists. Note when I say 100 people the majority of these leaders do not even live in British Columbia. The more you study these groups and organizations the more they appear like a well oiled Mafia.
If it is listed here, in one way or another they are connected directly or indirectly to us here in the Bulkley Valley and or Skeena Watershed.