As an aging senior, who is passionate about insuring that a few rotten eggs do not spoil or destroy the way of life for both aboriginal and non aboriginal people, by now you have figured out that I am not a journalist, or a paid flunky doing other peoples bidding's. I have however been very privileged to have had a number of genuine journalists, reporters share their thoughts with me over the last two years. I need not mention their names as the notes were sent in private mostly and it was an encouraging experience to hear what they had to share.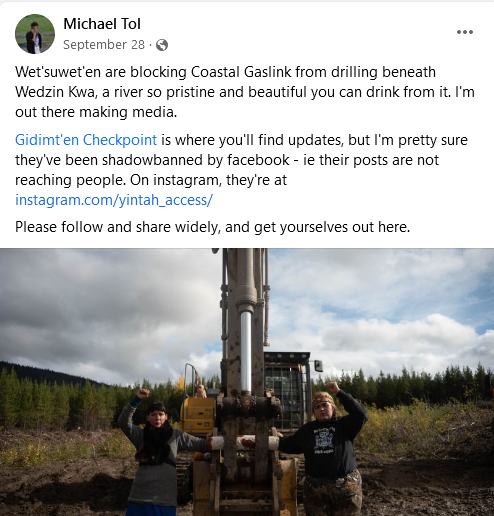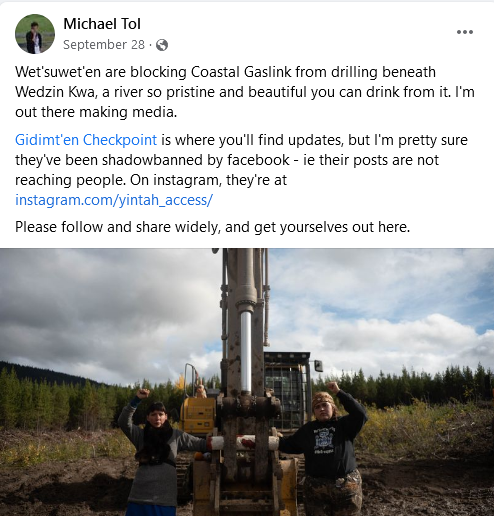 Food for thought, what kind of journalist promotes the people he claims he is reporting on? Look at this next screenshot. Michael Toledano posted this.
Over the past few days we have heard a lot from some media in regards to the attack on media, and the attack on freedom of the press. At first I passed it off as rookies trying to make a name for themselves, as most of it came from people who appear to me as being activists with a pen, sort of like myself other than they claim to be journalists, photographers, or press agents.
Then a real journalist added comments to our blog, and since that time, its made me do some serious thinking, something that always gets me into trouble.
The journalist is so highly respected I did a double take that he would comment on an old mans blog out of the Bulkley Valley, he has written for The Toronto Sun, National Post, Globe and Mail, Toronto Star, Macleans, Readers Digest and many other publications. Thanks Ian Harvey.
Aside from who he is, what he said really opened my eyes, something that I wish our Supreme Court would also do, open their eyes to what is really going on here. Let me copy verbatim what he said in a comment here.
"Claims they are journalists are suspect. I have been a journalist for 45 years and I would not sign on under these conditions.
These are the restrictions the "journalists" were working under. In which case they were no longer journalists but in fact PR agents IMHO.
"All media requests must be sent to Jennifer Wickham (Molly the ringleader's sister) through email or phone. All reporting must center,, prioritize and uplift Wet'suwet'en voices and sovereignty (which in this case means the Hereditary Chiefs' version not the band councils and majority who voted for CGL). Reporting focusing on or using non- Wet'suwet'en voices (supports, etc) must be FIRST approved by Jennifer Wickham. Failure to respect Media Protocol could result in being banned from reporting on Wet'suwet'en stories."
So I went there to confirm what was posed there and sure enough Ian was right on the money.
That said it looks like Ian nailed it, this is not journalism this is a Promotional Agents contract, and signed to by Melissa Cox, Kai Nagata,  Amber Bracken, Brandi Morin and Michael Toledano as well as Franklin Lopez the executive producer of the upcoming documentary Yintah.
Next I went to the RCMP website in regards to this same issue and found the following.
"The RCMP understands the important constitutional role the media play in Canada. They inform the public, challenge the status quo and traditional narratives, and they ignite and foster dialogue on important subjects. The RCMP's relationship with the media is based on mutual respect and professionalism. Our expectation is the media identify themselves as soon as possible and it is our obligation to ensure they have fair and safe access to observe and report.
The RCMP's protocols and procedures reflect the Court's direction and guidance with respect to media access during a protest. The courts have indicated, specifically in Re Brake, 2019 NLCA 17 that considerations for journalist presence in a protest be:
i. The person is engaged in apparent good faith in a news-gathering activity of a journalistic nature;
ii. He or she is not actively assisting, participating with or advocating for the protesters about whom the reports are being made;
iii. He or she does no act that could reasonably be considered as aiding or abetting the protestors in their protest actions or in breaching any order that has been already made;
iv. He or she is not otherwise obstructing or interfering with those seeking to enforce the law or any order that has already been made or is not otherwise interfering with the administration of justice;
v. The matters being reported on are matters that can broadly be said to be matters of public interest. Particular consideration should be given to protests involving aboriginal issues.
These conditions have been included in the Community-Industry Response Group (C-IRG) operational planning and enforcement."
So all in all it become pretty clear that many people claim to be journalists, but are they really and are they only doing journalism or working part time as "Promotional Agents"?
The question of if or not the CBC gets their stories directly from these same people who made the same rules, if CBC did or did not agree to them? Its not so much what they did say, other than insuring they obey the rule "All reporting must center,, prioritize and uplift Wet'suwet'en voices and sovereignty" Zero coverage of the statement made by the Gidimt'en Clan. as that might violate that agreement with Molly and her gang of mostly outsiders. In this story by CBC "Judge releases journalists arrested by RCMP during enforcement of pipeline injunction"
As a senior I have lived long enough to recognize when we are being duped by the press, who somehow appears to not even understand the difference between journalism and being a promotional agent for the blockaders, whom hardly even represent the Wet'suwet'en Nation or put this way, represent the Wet'suwet'en people. CBC seems to go out of its way to support the less than 1% of the Wet'suwet'en people. Before you read what CBC said, I want you to watch footage made by Michael Toledano as his own video confirms what the RCMP said all along, neither Amber Bracken or Michael Toledano declared they were press until after the words you are under arrest.
Then comes the question of what they signed into, just for the right to be there.
Bracken is an Alberta-based photojournalist who has won awards for her work covering the Wet'suwet'en conflict; Toledano is an independent filmmaker who has been working on a documentary on the conflict and resistance to Coastal GasLink since 2019.
"This was a punitive arrest. A punitive incarceration. I was put in a holding cell for four days for filming Indigenous people being removed from their land at gunpoint," Toledano said in brief comments to CBC News upon his release.
"Canadians should know that journalists in this country can be arrested and incarcerated if they're telling a story the RCMP don't like."
Then this rant by CBC verbatim quote.
On Sunday, two federal cabinet ministers expressed concern about the arrests. In a Twitter thread, Public Safety Minister Marco Mendocino said journalists play an essential role in Canada's democracy. "In order to fulfill that role, journalists must be able to work free from threats, intimidation or arbitrary state action."
Crown-Indigenous Relations Minister Marc Miller also weighed in on Twitter, writing, "journalists have a right to cover current events in this country.
"This right is essential to our democracy. They should not be held or detained any longer than is necessary to verify that they are journalists."
Before I close and grab my second cup of coffee, I want you to ask yourself, were the two cabinet ministers guilty  of political interference or just shooting off at the lips out of complete ignorance?
Thanks Ian Harvey for waking me up to see the light, in a valley that's seen too many dark days by way of outside interference into our lives.



"Now you know the rest of the story"
brought to you by
"Two Feathers"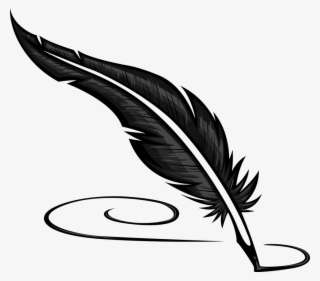 In the event we are using copyrighted material, we are doing so within the parameters of the Fair Dealing exception of the Canadian Copyright Act.


See our Copyright Notice