WARNING: Due to the explicit content of the following article we recommend that you shield your children from this article.
Due to the graphic content of the following story I want to run a disclaimer first.
The following article is more evidence that the Wet'suwet'en Nation once again endures the shame of what was orchestrated by a few disgruntled Wet'suwet'en members who found both fame and fortune at the expense of others, serious human suffering is the result of their actions yet they get international accolades like the following, while the truth lies buried in the hearts of women who have become the victims.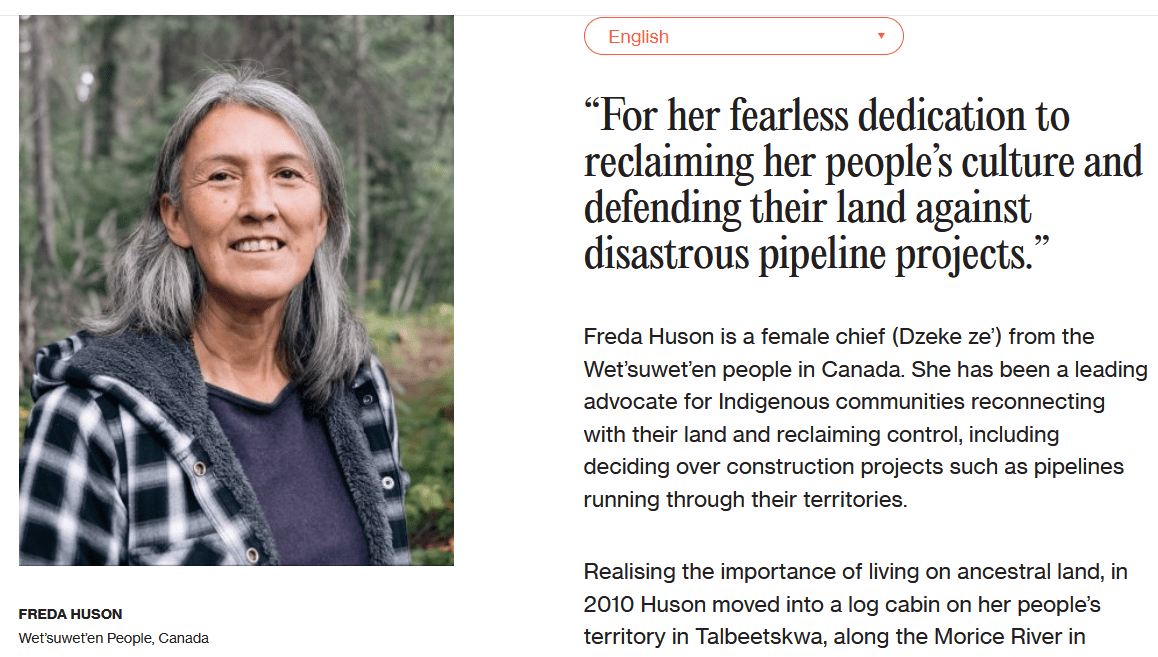 Talk about supporting cast and crew, while Freda became rich and famous, look what those who carried her to that point had to endure. I want to be clear, this is not a repeat of a previously disclosed rape case but its in addition to the cases mentioned before. This is truth that only became public in the last few days. This is what is not posted in the media, its another clear example of how corruption thrives at the expense of truth.
This story is so sick and bazaar I think it needs an explanier and even then someone new to what is going on here might still have a hard time wrapping their heads around just how sick some of these lost souls are. But hey you won't hear Freda tell the world as to how she became both rich and famous. Let me begin with a reminder that a person who self identifies as transgender and or two spirit. The above picture is from an Unist'ot'en Camp (Huson) promo photo collage. (Call to Action at Unist'ot'en) So without a shadow of doubt the Bear Henry was part of that camp.
Now fast forward the day Bear Henry went missing Nov. 27, and was reported missing to Victoria police on Dec. 11. 2021.
At that time there was a massive search for Kevin Henry AKA Bear Henry, social media was rife with accusations that hate filled white supremacists were banging on his van days before he went missing. All of the hate about this missing person was directed at people of white skin as being so full of hate and that they had something to do with his disappearance.
Well if your still reading this, I will lead you further down the rabbit hole of truth. By the time you are done reading this article you might understand why he was no longer at the Unist'ot'en camp and God knows why he was at the Fairy Creek blockade.  Was he a professional protester or are protest camps opportunities for predators?
Fast forward to Feb 9th 2022 and the headlines Missing person Kevin 'Bear' Henry found after more than 2 months in Vancouver Island bush and 37-year-old person missing for almost 3 months found on Vancouver Island logging road You really need to watch the the video on the first link.
WOW imagine how the media feels today? TOTALLY DUPED PRESS
The problem with the press is they need a story right now, sell it while its hot, and who cares about truth if it costs money to investigate. Nobody did a follow up, they just took his word for it that he was out in the woods for almost 3 months, unscathed and unfazed by it, after all it fits the indigenous environmentalists narrative.
We have all the screenshots of a public conversation between Kevin Henry AKA Bear Henry and one of his victims, by victims I mean that part of that conversation is a confession of rape, and part of that conversation identifies a number of women that by name were linked as rape victims. Let me be clear these are all allegations of rape, other than the admission by Kevin Henry.
We will not publish this conversation in full to protect the victims, the content is so graphic in nature that it makes one wonder how a transgender is capable of as one of his victims put it (online) I woke up because you were penetrating me, without my consent. The following two screenshots were written by Bear Henry publicly, they are the only ones we will share here, the rest are available to the RCMP on request.
Here this man is trying to turn the story around, where a white Unist'ot'en supporter is now being called a supremacist for not offering her body without resistance. The public statement he made below outlines how he was never lost in the first place, but was intentionally in hiding. Was this because he feared the charges that might be laid against him? Is this all part of his method to escape being held accountable for raping so many women. (rape allegations)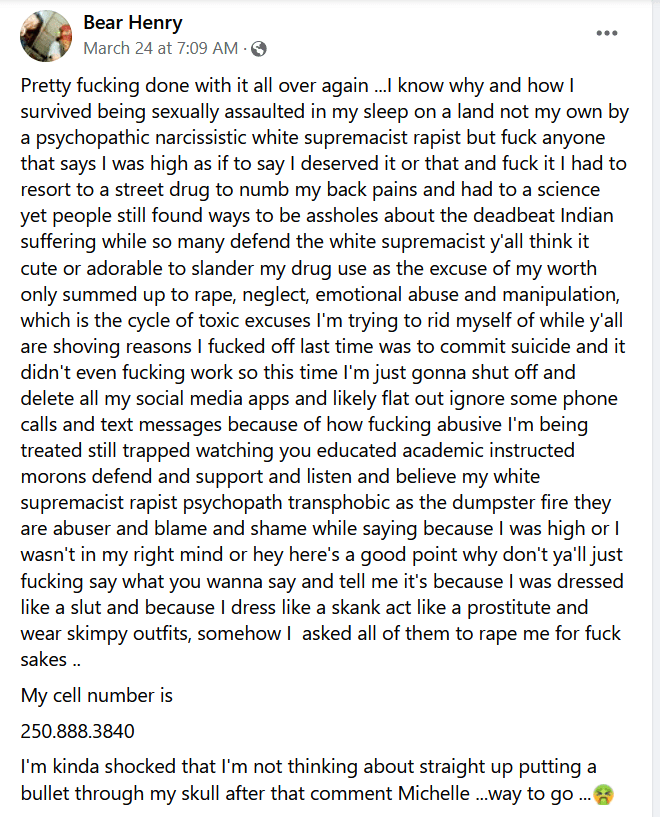 Next was this next one he publicly accuses another person, not sure what he identifies as, it does not say. But its also a rape accusation.
Last but not least, why would you not expect this?
Seriously if this is the kind of people that man these blockades, then the Wet'suwet'en Nation along with the Canadian Goverment have an obligation to shut these horrible places down before more youth are harmed. There are way to many victims of rape here to ignore it, and can you imagine these same people operate as if they are the defenders of the missing and murdered Indigenous women, when it turns out they are a leading cause in abuse against aboriginal women.



"Now you know the rest of the story"
brought to you by
"Two Feathers"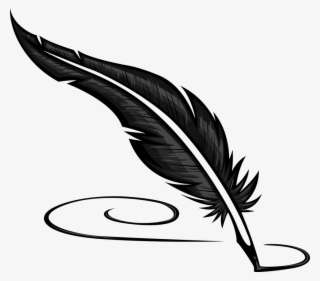 In the event we are using copyrighted material, we are doing so within the parameters of the Fair Dealing exception of the Canadian Copyright Act.


See our Copyright Notice